business
More Chinese Luxury Shoppers Prefer to Buy Overseas
Christina Larson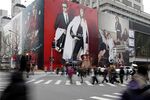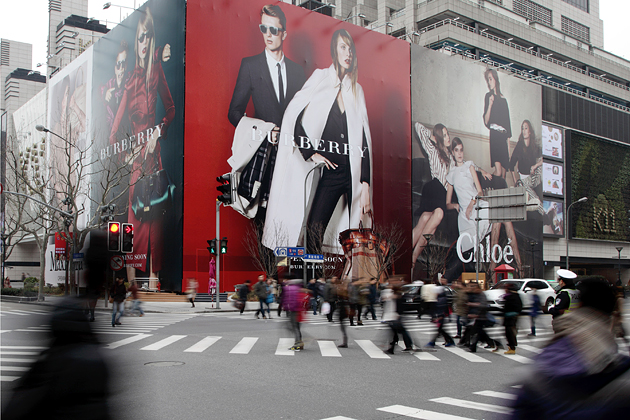 Not all luxury brands have fared equally under Chinese President Xi Jinping's crackdown on graft and conspicuous flaunting of cadre wealth. While fancy watch sales dipped 11 percent in the year since a Rolex-wearing Chinese official nicknamed "Brother Watch" was ousted from his job in September 2012, sales of luxury apparel and cosmetics both jumped 10 percent in 2013, according to consulting firm Bain & Co.
Among fashion labels prominent in China, Burberry was most popular last year with mainland consumers, according to a new survey, "Luxury Purchase Power," by Chinese news site IFeng. The next most popular brands, in order, were Chanel, Gucci, Louis Vuitton, Prada, and Dior. (In November, Burberry appealed a Chinese regulators' decision to limit its trademark on the company's iconic plaid pattern in China.)
Last year overall luxury spending in mainland China rose just 2 percent, down from 7 percent in 2012, according to Bain. However, that slowdown doesn't fully reflect all purchases by Chinese buyers, who increasingly shop for luxury items overseas.
Fifteen percent of luxury buyers told the IFeng survey that they make purchases online or through a daigou middleman buyer. Of those who bought items in bricks-and-mortar stores, 43 percent of Chinese luxury buyers said they shopped for luxury goods outside mainland China on overseas trips; 32 percent made purchases within mainland China; and 25 percent went on shopping sprees in Hong Kong.
The website Jing Daily, which focuses on luxury consumer trends in China, recently rounded-up the reasons driving the overseas shopping trend: China's high import tariffs on luxury goods, which can push price tags to 30 percent to 80 percent above bills in home markets; a desire to avoid fake goods, still rampant in China; and higher expectations for in-store service as part of the luxury shopping experience. Ninety-two percent of respondents to the 2013 China Luxury Forecast, an annual survey conducted by research firm Ruder Finn, said that service in mainland Chinese stores was disappointing, with inattentive or unknowledgeable sales staff.
Pampering remains essential to luxury sales—in China, as elsewhere. And darling, yes, you do look fabulous in that dress.
Before it's here, it's on the Bloomberg Terminal.
LEARN MORE