business
Paris Cabbies Slash Tires, Smash Windshields in Protest Against Uber
By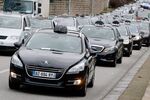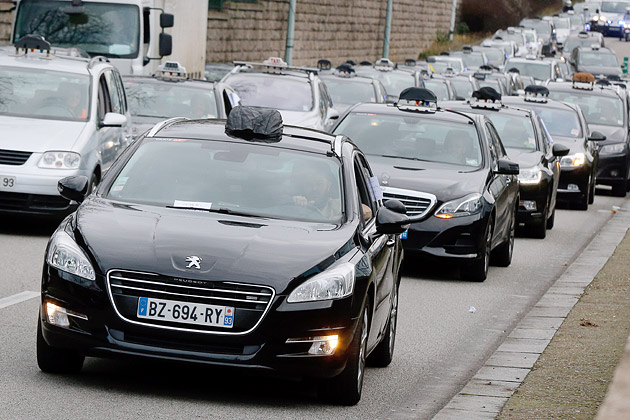 The rivalry between Paris cabbies and Uber turned violent today, as striking taxi drivers began attacking cars booked through Uber and another private-hire service.
"Smashed windows, tires, vandalized vehicle, and bleeding hands," passenger Kat Borlongan said on her Twitter feed, describing what happened after an Uber car picked her up at Charles de Gaulle Airport (aka Roissy Airport). "Attackers tried to get in the car, but our brave Uber driver maneuvered us to safety, changed the tire on the freeway, and got us home," she said.
Two other cars, booked through the local Chauffeur Privé service, were targeted in similar attacks near Orly Airport and the Montparnasse train station. "Eggs and stones were thrown, and there were violent blows that broke the cars' windows and rear-view mirrors," Chauffeur Privé said in a statement.
The violence erupted during a strike by cabdrivers who are protesting increased competition from private car services. "We strongly condemn this severe violence," Uber's local spokesperson said in a statement. "Today's incident will certainly not tempt Parisians into choosing a taxi for their next ride."
News of the attacks spread swiftly through Twitter posts posted by Borlongan, a founder of U.K. open-data firm Five by Five, and fellow passenger Renaud Visage, chief technology officer of online-ticketing company Eventbrite in San Francisco. "No more taxis for me, just Uber," Visage said, adding that he was "shaken up" but unharmed.
In an interview with Bloomberg Businessweek, Borlongan said the attack on her car took place on the highway leading from the airport to Paris. Cabdrivers had blocked off several lanes of the road, slowing traffic to a crawl while they pelted car-service vehicles with eggs and stones. "Then all of a sudden, someone smashed in my window," on the right side of the car. A few pieces of glass lodged in my hand, so I had some blood on my hands. We kept going, and then all of a sudden there were six or seven men who stopped the car and tried to get inside. Someone spat inside the car through the open window. We didn't realize it at first, but someone on the left side slashed the tire. We had to pull over to the side of the freeway, and we weren't the only ones. There were already two or three other cars" with slashed tires, she said.
Tensions between cabbies and Uber have been brewing for months. At the request of taxi drivers, the government recently imposed a new rule on private services requiring a minimum 15-minute wait between the time a car is booked and the passenger is picked up.
Not all Paris cabbies approve of the violence. "In the name of the overwhelming majority of drivers who are not striking, we ask you to excuse these intolerable excesses," one driver said in posts on Borlongan's and Visage's Twitter feeds.
Before it's here, it's on the Bloomberg Terminal.
LEARN MORE