Appeals Court Blesses BP Spill Settlement but the Legal Battle Drags On
Paul M. Barrett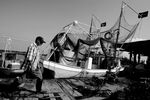 On Friday a federal appeals court in New Orleans signed off on the settlement of one component of BP's hellishly complicated liability for the 2010 Gulf of Mexico oil spill. Plaintiffs' lawyers celebrated the upholding of a pact that has already channeled billions of dollars to private businesses claiming harm from the environmental disaster.
Not so fast.
Initially conciliatory in trying to put a price tag on the Gulf debacle, in which 11 rig workers died and millions of barrels of oil escaped, BP has become more combative. After the appeals court ruling, the company sent signals that it will continue to try to undermine a 2012 settlement its own lawyers helped to craft. BP contends that its original impulse to compromise has been met by overreaching and outright fraud by plaintiffs' lawyers—and the British oil giant seems ready, even eager, for total legal warfare.
On a 2-1 vote, a three-member panel of the U.S. Court of Appeals for the Fifth Circuit upheld a trial judge's earlier approval of a settlement originally valued at $7.8 billion and designed to pay economic-loss claims to certain businesses in the five-state Gulf region (Louisiana, Texas, Florida, Mississippi, and Alabama). The 2012 pact resolved just one aspect of BP's legal obligations following the spill. The company has paid out more than $26 billion for cleanup and various damage claims, and it still faces potentially massive liability under federal environmental law.
Last year, BP began objecting to the way the 2012 business-claims settlement was being carried out. It claimed that plaintiffs' lawyers were filing exaggerated and even fictitious claims, inflating the likely cost of the pact to more than $9 billion. The Fifth Circuit majority on Jan. 10 rejected BP's contention that the dispute over individual payments threatened the validity of the overall settlement. "Indeed the reason that BP has identified no [legal] authority for this proposition," Judge W. Eugene Davis wrote, "is that it is nonsensical"—not the adjective that any litigant wants to see attached to its arguments.
In a statement, lead plaintiffs' attorneys Steve Herman and Jim Roy called the Fifth Circuit ruling "an enormous victory for the gulf and an important step forward in ensuring that every eligible claimant is fully compensated according to the objective, transparent formulas spelled out in the settlement agreement that BP co-authored and agreed to."
That celebration seems premature. Geoff Morrell, BP's chief spokesman in the U.S., said in his own statement that the company "will continue to press its position on the proper interpretation of the settlement agreement's provisions requiring a causal nexus between a claimant's injury and the spill."
In a confusing twist, a separate three-judge panel of the same appellate court is actively considering BP's contention that the settlement devolved into a free-for-all claimant money grab. If the second appellate panel were to find the implementation of the pact fatally flawed, it could order payments to be stopped, at least to those claimants who cannot prove that their losses had a relationship to the spill.
Beyond the appellate court proceedings, an investigative team appointed by the trial judge in the case and headed by former FBI Director Louis Freeh is looking at BP's charges of settlement fraud. Freeh, serving as a so-called special master, has already found that certain officials administering the settlement had conflicts of interest; he's expected to issue additional findings early this year.
All this agitation takes place against the backdrop of an ongoing civil trial in New Orleans in which the federal government is seeking billions of dollars from BP under environmental statutes. In other words, no light is yet visible at the end of this long legal tunnel.
Before it's here, it's on the Bloomberg Terminal.
LEARN MORE