China Imports Rise to Help Nation Claim World Trade Crown
Bloomberg News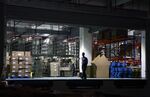 China's imports rose the most in five months in December, indicating that domestic demand will support economic growth, as the government claimed the title of the world's biggest trader of goods.
Inbound shipments advanced 8.3 percent from a year earlier, the customs administration said today in Beijing. Exports rose 4.3 percent, a pace that may be distorted by fake invoices. The trade surplus was $25.6 billion.
Improving demand will help support expansion amid risks from rising domestic debt and the impact of President Xi Jinping's broadest policy reforms since the 1990s. While China said today it passed the U.S. to become the top trading nation in 2013, the government highlighted challenges for exporters including gains in the yuan and increased labor costs.
"Domestic demand is not as soft as had been feared, and the Chinese economy -- while decelerating -- is unlikely to see a sharp slowdown," said Dariusz Kowalczyk, senior economist and strategist at Credit Agricole CIB in Hong Kong.
At the same time, today's figures "should be interpreted cautiously as they look much different after seasonal adjustment," Kowalczyk said. On that basis, imports rose 4.3 percent from a year earlier and exports gained 3.3 percent, customs data show.
The full-year trade surplus was $259.75 billion, today's data showed. That's the widest since 2008 and the third-biggest on record, based on previously released data. Some analysts have said the surplus was inflated earlier in the year, with Bank of America Corp.'s Lu Ting pegging the discrepancy at more than $50 billion for the January-April period.
No Revisions
The customs administration has no plans to revise 2013 trade data, Zheng Yuesheng, a spokesman, said today at a press briefing. For the full year, exports increased 7.9 percent to $2.21 trillion and imports rose 7.3 percent to $1.95 trillion, the customs administration said. Exceeding annual trade of $4 trillion was a "historic moment," Zheng said.
Fake invoices inflated 2013 export gains by about 2 percentage points, Louis Kuijs, chief China economist at Royal Bank of Scotland Group Plc, said in a note today.
The Shanghai Composite Index fell 0.7 percent amid concern new share offerings will divert funds.
U.S. trade totaled $3.53 trillion through November 2013, according to U.S. government figures. U.S. December trade figures, which haven't been released yet, would need to be more than double a year earlier to catch China's full-year total.
Biggest Importers
China already ranked No. 1 in goods exports in 2012 and was the second-biggest importer behind the U.S., according to the World Trade Organization's annual report on international trade statistics. With $2.08 trillion in inbound shipments through November, the U.S. was poised to remain the world's biggest importer in 2013.
China was fifth in exports of commercial services in 2012, behind the U.S., U.K., Germany and France, the WTO said. China was No. 3 in imports of services, behind the U.S. and Germany.
In economic size, China remains second to the U.S., with gross domestic product of about $8.2 trillion last year, about half that of the U.S.
The yuan rose 2.9 percent against the dollar last year, the most of 11 Asian currencies tracked by Bloomberg. It touched 6.050 earlier today, matching the level reached on Jan. 2, which was the strongest since the government unified the market and official exchange rates at the end of 1993.
Currency Pressure
Even with adjustments for previously inflated data, export growth won't significantly quicken, because a stronger yuan will put pressure on China's exporters and emerging markets that buy the nation's goods could be hurt by the U.S.'s tapering of monetary stimulus, Hong Kong-based Lu of Bank of America said in a note today.
Analysts' estimates for import gains in December ranged from 1.8 percent to 9 percent, with a median of 5 percent, following November's increase of 5.3 percent. Exports were projected to rise 5 percent, and the trade surplus was forecast at $32.15 billion, based on median estimates of economists. The trade excess in November was $33.8 billion, the largest in more than four years.
China's automakers exported 4.8 percent fewer vehicles in December compared with a year earlier, the China Association of Automobile Manufacturers said yesterday in Beijing. Full-year shipments dropped 7.5 percent, the first decline in five years, due to unstable overseas demand and insufficient competitiveness, the association said.
Great Wall
Great Wall Motor Co., a sport-utility vehicle and pickup-truck manufacturer based in Baoding, Hebei province, reported a 23.2 percent drop in 2013 export volumes, according to a preliminary estimate released Jan. 7.
Data today showed imports of soybeans and natural rubber rose to a record last month, while full-year 2013 iron ore imports increased to a record.
China's trade with Japan fell 5.1 percent in 2013, today's data showed, as tensions lingered over disputed islands in the East China Sea. Trade with the U.S. rose 7.5 percent, while combined exports and imports with the European Union were up 2.1 percent.
"Exports will continue to improve as the U.S. economy has significantly picked up," said Yao Wei, China economist at Societe Generale SA in Hong Kong. While China's export competitiveness has declined compared with some other countries, the nation still has room to grow, she said.
Capital Flows
Today's data follow November figures that showed overseas shipments rose 12.7 percent from a year earlier, triggering renewed speculation among some analysts that capital flows disguised as trade could be boosting the export numbers. China's foreign-exchange regulator said Dec. 7 that it will intensify scrutiny of trade financing and that banks should prevent companies from getting financing based on fabricated trade.
December's numbers may also reflect some over-reporting by exporters, though the evidence isn't "conclusive enough" without data yet from China's trading partners, Goldman Sachs Group Inc. analysts said in a report today.
Regulators in May cracked down on over-invoicing of exports used to disguise capital inflows, leading to a slump in figures for several months.
The economy may have expanded 7.6 percent in 2013, according to a State Council report last month, the weakest pace in 14 years. Growth will slow to 7.4 percent in 2014, based on the median estimate of 48 economists surveyed by Bloomberg News last month, which would be the lowest since 1990.
— With assistance by Xiaoqing Pi, and Xin Zhou
Before it's here, it's on the Bloomberg Terminal.
LEARN MORE