business
Exporters Leave China but Find Rising Costs Elsewhere
Christina Larson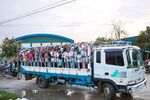 Rising labor costs in southern China have in recent years driven manufacturers to set up shop elsewhere in search of cheaper labor—Bangladesh, Indonesia, Vietnam, and Cambodia, among other countries. The transition hasn't always been easy—nor are the labor cost savings necessarily long-lived.
"It's easy to underestimate the political and economic risks of moving manufacturing" away from China, says Shaun Rein, managing director at China Market Research Group in Shanghai and the author of the recent book The End of Cheap China. "Workers across Asia are starting to demand their rights—workers are saying, 'we want higher salaries and better environments.' In a very short time, the costs of producing in these countries will double or triple."
Anannya Bhattacharjee, India-based international coordinator of Asia Floor Wage Alliance, a nongovernmental organization, says that just as workers in southern China have experienced rising living standards and expectations, alongside national economic growth, so textile workers in other developing Asian countries are beginning to expect and demand more. "There is a regional trend [to ask for higher wages]. Garment workers are desperate with their conditions and extreme poverty."
Last week a garment workers' strike to raise the monthly minimum wage in Cambodia to $160 ended when military police fired into a crowd of demonstrators, killing four garment workers and injuring many more. Speaking from his hospital bed inside the Preah Ang Duong Hospital in Phnom Penh, 19-year-old garment worker Ru Sarath, who was shot in the eye and is awaiting surgery to remove the bullet shrapnel, said, "I decided to join the strike because I feel my situation is very bad, and the cost of food keeps going up. I feel it is so tough to live in this condition."
The garment workers' strike in Cambodia lasted more than a week. While workers wonder what their own future holds, factory owners wonder about the impact of the demonstrations on the country's vital garment industry, which accounts for 20 percent of GDP and 80 percent of Cambodia's exports. Van Sou Ieng, president of the Garment Manufacturers Association of Cambodia, said on Thursday that 90 percent of garment factories have resumed operations, but he worried about whether Cambodia's garment sector would continue to prosper if labor costs rise quickly or if international buyers begin to think of Cambodia as an unstable place to do business.
Unrest in Cambodia is hardly the only challenge for manufacturers moving away from China, where the minimum monthly wage in the factory boomtown of Shenzhen more than doubled from 2008 to 2014 (it's now 1,808 renminbi, or about $300). In October, more than 100,000 Indonesian workers joined in strikes calling for a 50 percent increase in the minimum wage, shutting down factories and disrupting production (they were given a 9 percent increase). In April, a garment factory building in Bangladesh collapsed, killing at least 1,000 people, spotlighting hazardous, inhumane, and poorly monitored factory conditions in the country. Major flooding in central Thailand in October and November swamped an industrial zone home to hundreds of factories, forcing closures and delays and revealing the extent to which the Thai government is unprepared to address infrastructure challenges quickly. Manufacturers in Vietnam and Sri Lanka report lower worker efficiency and higher errors compared with operations in China. The upshot, says Shaun Rein at China Market Research Group, is that "the cost savings of moving away from China won't be preserved."
Eventually, rising labor and manufacturing costs will translate into higher store prices. "For a decade or more, China exported deflation, bringing low prices to Western consumers," says Tom Miller, research analyst at GaveKal Dragonomics in Beijing. That era is ending, as manufacturers discover a host of hidden risks in seeking alternative factory floors.
Before it's here, it's on the Bloomberg Terminal.
LEARN MORE