business
China's Crackdown on Conspicuous Consumption Hasn't Slowed Down Rolls-Royce
By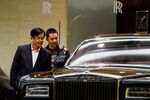 If you're a super-rich Chinese entrepreneur thinking of buying a luxury car, Rolls-Royce has a new special option for you. Even more than in other markets, China's mega-rich rely on chauffeurs. "Hardly any customer is driving the car him or herself," says Henrik Wilhelmsmeyer, China director for Rolls-Royce Motor Cars. "In other places, many of the customers are driving the cars themselves."
That's why last year the BMW-owned carmaker introduced a new service in China: chauffeur education. Chinese buyers of Rolls-Royce's Phantom line—with a base price of 8 million yuan ($1.3 million) including tax—can now sign up their drivers for special training.
Extra touches like those are helping Rolls-Royce win over China's 1 Percent. Chinese buy more Rolls-Royce cars than anyone else. The country is the No. 1 market, moving ahead of the U.S. in 2013, the company announced today. Sales in China grew 11 percent and accounted for 28 percent of overall sales, up from 25 percent in 2012. Worldwide, Rolls-Royce sold 3,630 cars in 2013, the company said in its announcement, the fourth consecutive year of record sales.
To build up its China numbers, Rolls-Royce has been expanding. It added dealers in seven new cities in 2013 in such places as Chongqing and Xian, bringing the total number of Chinese showrooms to 20. The company plans on adding more this year, with a goal of 25 by the end of 2014.
Rolls-Royce is winning new customers in China even as other makers of high-end products have suffered because of President Xi Jinping's campaign against conspicuous consumption on the part of Chinese officials. With the pace of economic growth slowing and ordinary Chinese angry about corruption, the government has been discouraging extravagant spending. For instance, French cognac maker Rémy Cointreau faces a potential 20 percent fall in profits because of the China crackdown, Chief Executive Officer Frederic Pflantz told Bloomberg Television in November. On Jan. 3, Pflantz stepped down as CEO after only three months on the job.
The Chinese media has also targeted some other foreign automakers, reporting that luxury cars can cost two to three times more in China than in other markets. While prices are higher in China, that's not the fault of Rolls-Royce itself, CEO Torsten Mueller-Oetvoes told Bloomberg News in an interview in Beijing in October: "The difference in price is very much taxes."
So far the campaigns haven't hurt Rolls-Royce. Wilhelmsmeyer says that's because the companies most vulnerable are those that make products that make for good high-end gifts–or, as he calls them, "mass luxury products." A Rolls, he adds, is definitely not a mass product. "To own a Rolls-Royce, this is something special," he says. A buyer isn't purchasing the car for somebody else. "Owning a Rolls-Royce is to reward themselves for their own achievements."
Before it's here, it's on the Bloomberg Terminal.
LEARN MORE