New Wave of Genetically Modified Crops Clears a Regulatory Hurdle
By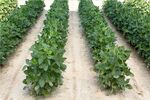 Dow AgroScience is one step closer to selling corn and soybean farmers a new system to fight weeds: genetically engineered, herbicide-resistant crops.
Last week the U.S. Department of Agriculture announced that Dow's Enlist seeds, limited only to testing so far, don't pose a threat to agricultural crops or other plants. Federal officials proposed full deregulation of three varieties of corn and soybean, even as activists continue to warn that the resulting spread of an herbicide that the plants are designed to resist, called 2,4-D, would harm non-resistant plants, the environment, and human health.
The report found that Enlist crops do not themselves pose a "plant pest risk," meaning they don't cause injury, damage, or disease to other plants. USDA regulators don't assess what impact increased use of 2,4-D herbicide will have on the environment and human health; that's a job for the Environmental Protection Agency, which approves herbicides usage and is already conducting a risk-assessment set to be released in the spring. The herbicide that's expected to spread, along with Dow's genetically modified seeds, is already widely sprayed on lawns, golf courses, and agricultural lands. Its use has long been contentious because 2,4-D was an ingredient in Agent Orange, harms non-resistant crops, and can cause health problems in humans after prolonged exposure.
Still, it's not clear that EPA officials will restrict the herbicide. The Natural Resources Defense Council filed a petition to ban 2,4-D, only to have environmental regulators deny the request and declare it safe for approved uses.
Dow's new genetically modified seeds, meanwhile, are largely a response to Monsanto's RoundupReady system, which included genetically engineered seeds resistant to the herbicide glyphosate (marketed as Roundup). Farmers embraced RoundupReady crops when they were introduced in the 1990s because they simplified weed management and reduced costs.
Overuse over the last 15 years led to the development of Roundup-resistant weeds. According to Dow AgroSciences, 86 percent of corn, soybean, and cotton growers in the South have herbicide-resistant or hard-to-control weeds on their farms, along with 61 percent of their peers in the Midwest. A new system is needed, and Dow is offering its seeds plus 2,4-D as an answer. A similar scenario could play out if this herbicide is overused, too.
The USDA report is open to public review and comment for 45 days. The agency said in an e-mailed statement: "USDA understands the public's concern regarding our recent announcement for these 2,4-D resistant products. We encourage the public's input during the comment period and will consider each comment we receive." Dow AgroSciences says on its website that pending regulatory approvals, it expects to launch Enlist corn and soybeans in 2015, with Enlist cotton to follow.
Before it's here, it's on the Bloomberg Terminal.
LEARN MORE