Cisco Video Chief Takes Leaves to Tend Ailing Relative
Peter Burrows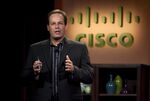 Cisco Systems Inc.'s head of the video and collaboration group, Marthin De Beer, is taking a one-year leave of absence from the world's largest networking equipment maker.
De Beer, a senior vice president who oversees set-top boxes, Telepresence videoconferencing systems and the WebEx online collaboration service, said in a memo to staff that he's going on leave starting this month to tend to an ailing relative.
"I have been dealing with significant family health issues and have decided to step away from my current role at Cisco for the next year in order to best meet the needs of my family," De Beer wrote in the memo, which was reviewed by Bloomberg News. David McCulloch, a spokesman for Cisco, said yesterday that the memo was distributed just before Christmas.
De Beer, a longtime lieutenant to Chief Executive Officer John Chambers, has seen muted sales in his businesses as the San Jose, California-based company battles a slowdown. In November, Cisco said that collaboration revenue rose just 1 percent in the fiscal first quarter from a year earlier to $1.03 billion, or 8.5 percent of total sales. Sales of video gear plunged 14 percent. In the past, Chambers has highlighted those products as important growth drivers for the company.
Cisco forecast its first quarterly revenue decline in four years in November due to choppy spending in emerging markets and from phone companies. On Dec. 12, Cisco lowered its revenue growth rate for the next three to five years to 3 percent to 6 percent, down from an earlier projection of 5 percent to 7 percent. Cisco last reduced its annual sales growth forecasts in 2011, when the company had been projecting growth of 12 percent to 17 percent.
Routers, Switches
De Beer has run many of Cisco's higher-profile businesses outside of its core products of routers and Ethernet switches.
"Marthin's a solid, old-school Cisco manager, but he has always been the guy involved with the adjacent markets Cisco likes to chase," said Mark McKechnie, an analyst at Evercore Partners, who has the equivalent of a hold rating on the stock. Since few products carry the same profit margins as Cisco's routers and switches, "it's a tough job to be 'the adjacencies guy' at Cisco," he said.
Cisco became the market leader in set-top boxes by buying Scientific Atlanta for $6.8 billion in 2006. Cisco has since lost share to more aggressive rivals such as Pace Plc, which are willing to sell cheaper set-tops at lower profit margins.
De Beer also oversaw Cisco's $5 billion acquisition of video software-maker NDS Group Ltd. in July 2012. NDS isn't growing fast enough to compensate for plummeting set-top sales, said McKechnie.
De Beer's lieutenants will now report to executive vice president Pankaj Patel, according to an internal memo from Patel that was reviewed by Bloomberg News.
Before it's here, it's on the Bloomberg Terminal.
LEARN MORE