Loans in Asia Recover as Borrowing Costs Slip Most in Decade
Foster Wong and Paulina Duran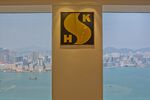 Syndicated lending in Asia rebounded last year as companies boosted borrowing to take advantage of the biggest drop in loan interest rates in a decade.
Borrowers led by China National Offshore Oil Corp. and Origin Energy Ltd. pushed lending volumes in the Asia-Pacific region outside Japan to $423.6 billion last year from $387.6 billion in 2012, according to data compiled by Bloomberg. The average interest margins charged for U.S. dollar-denominated loans shrank 23 basis points, the most since at least 2003, to 267 basis points, the data show.
After sliding 16 percent in 2012, the amount of loans jumped last year ahead of moves by the U.S. Federal Reserve to unwind record stimulus that had caused volatility in the bond market and helped lower loan prices. Dollar bond sales in the region fell almost 50 percent to $44.9 billion in the second half of 2013 from $82.6 billion in the first six months.
"Price tightening in the loan market had a positive impact on overall volumes in 2013," said Priscilla Lee, the Hong Kong-based head of northeast Asia loan syndications at Bank of Tokyo-Mitsubishi UFJ Ltd. "Spreads are unlikely to drop further this year."
Interest margins fell in eight of the 11 Asia-Pacific loan markets in 2013, according to Bloomberg-compiled data. In Hong Kong, where average margins narrowed by 55 basis points to 230, syndicated facilities surged 81 percent to a record $63.4 billion, the data show. Volumes in Australia climbed 24 percent to $103.7 billion after loan pricing dropped 62 basis points to 243 basis points.
Margin Contraction
"There's still downward pressure on pricing, so we'll continue to see margin contraction," said Phil Lipton, Hong Kong-based head of syndicated finance for Asia-Pacific at HSBC Holdings Plc. "However, we do have upward pressures as well, as we're getting closer to when Basel III comes into effect."
Basel III, a global regulatory standard on bank capital adequacy, stress testing and market liquidity risk, is aimed at bolstering banks' liquidity and levels of capital to prevent a repeat of the financial crisis that deepened with the collapse of Lehman Brothers Holdings Inc. in 2008.
Borrowers also took advantage of the fall in pricing last year to refinance debt and shore up working capital facilities.
Refinancing Demand
Indonesia's CT Corp. approached its existing lenders in November for a $1.275 billion facility to partly refinance a $750 million acquisition loan signed in March, said two people familiar with the matter on Nov. 25. The interest rate of the new facility is at least 100 basis points lower than the older loan's margin, which was 500 basis points above the London interbank offered rate, the people said.
Hong Kong's Sun Hung Kai Properties Ltd., absent from the city's syndicated market in 2012, agreed two new facilities last year. Last month, the city's second-biggest developer borrowed HK$13.8 billion ($1.8 billion) at an all-in cost of 128 basis points, 30 basis points less than on a facility in March, people familiar with the matters said.
While high-grade borrowers such as Sun Hung Kai helped push down Asia's loan pricing, spreads for these credits may have bottomed, according to Phoebe Li, a senior vice president in the corporate finance group at Taipei-based Chinatrust Commercial Bank. That's because regional lenders such as Taiwanese banks have shunned these low-priced deals, Li said.
Alibaba, Shuanghui
Borrowers from mainland China accounted for four of the top 10 deals in the region last year, the data show.
Cnooc Ltd. and parent China National Offshore Oil Corp., raised the most money, borrowing a total of $9 billion. That comprised Cnooc's $6 billion bridge loan in February as part of its purchase of Canadian oil-sand operator Nexen Inc., and its parent's $3 billion two-part loan in September, the data show. China's biggest offshore energy explorer is seeking a new $2 billion term loan to partly refinance the February deal, people familiar with the matter said on Dec. 13.
Alibaba Group Holding Ltd., China's largest e-commerce company, in July completed an $8 billion facility, the third-biggest syndication in Asia last year, while Shuanghui International Holdings Ltd. in December sealed a $4 billion loan backing its acquisition of U.S.-based Smithfield Foods Inc.
This year's volumes may get an early boost if Gina Rinehart completes the financing of her A$10 billion Roy Hill mine and port project soon in west Australia's Pilbara region. Asia's richest woman is seeking about A$7 billion from export credit agencies and banks, with the nation's four biggest lenders expected to join, said people familiar with the matter.
"We expect to see some more jumbo transactions next year and the bank market will support that," HSBC's Lipton said last week, adding that outbound buying activity from China will continue to drive growth in acquisition finance.
Chinese Premier Li Keqiang's so-called "going-out" strategy of buying foreign assets has encouraged the nation's companies to expand overseas to help fuel economic growth. They spent $265 billion on M&A transactions last year, making China the world's most acquisitive country after the U.S.
"The market is in good health going into 2014," Lipton said. "There's ample liquidity and a healthy pipeline of transactions."
Before it's here, it's on the Bloomberg Terminal.
LEARN MORE