Forex Market Investigation: Collusion in the Chat Rooms?
Investigators look for signs of cheating in the currency market
By , , and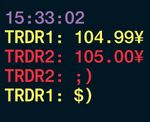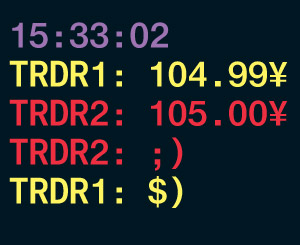 It's 3:40 in the afternoon in London, and computers blink red and green as traders buy and sell billions of dollars of currency. The pace picks up with the approach of the "fix"—the one-minute period beginning 30 seconds before 4 p.m. Trades made during the fix help determine the WM/Reuters currency exchange rates used as benchmarks by multinational corporations, money managers, and investors around the world to value contracts and assets.
As they check prices and complete deals, some traders participate in as many as 50 online chat rooms. Messages from salespeople and clients appear on their monitors, get pushed up by new ones, and vanish from view. Now regulators from Bern, Switzerland, to Washington are examining evidence that a small group of senior traders at big banks had something else on their screens: details of each other's client orders. Sharing that information may have helped dealers at JPMorgan Chase, Citigroup, UBS, Barclays, and others manipulate prices to maximize their profits, say five people with knowledge of the probes who asked not to be identified because the matter is pending.
At the center of the inquiries are instant-message groups with names such as The Cartel; The Bandits' Club; One Team, One Dream; and The Mafia, in which dealers exchanged information on client orders and agreed how to trade at the fix, according to the people familiar with the investigations.
Unlike sales of stocks and bonds, which are regulated by government agencies, spot foreign exchange trades—buying and selling for immediate delivery, not a future date—aren't considered investment products and aren't subject to specific rules. Traders are bound only by market abuse laws prohibiting trading on inside information and sharing confidential data about client orders with third parties. "This is a market where there is no law, and people have turned a blind eye," says Ted Kaufman, a former Democratic senator from Delaware, who sponsored legislation in 2010 to shrink the largest U.S. banks.
A lack of regulation has left the foreign exchange market vulnerable to abuse, according to Rosa Abrantes-Metz, a professor at New York University's Stern School of Business. "Since the gains from moving the benchmark are possibly very large, it is very tempting to engage in such a behavior," says Abrantes-Metz, whose 2008 paper Libor Manipulation about the London interbank offered rate helped spark a global probe of how that benchmark is set. "Even a little bit of difference in price can add up to big profits."
London is the world's biggest hub for currency trading, accounting for about 41 percent of all transactions, compared with 19 percent for New York and 6 percent for Singapore, according to a Bank for International Settlements survey. About $5.3 trillion changes hands globally every day, BIS data show, as companies convert revenue into dollars, euros, or yen, and managers overseeing pensions and savings buy and sell stock around the world.
Spot currency trading is conducted in a small and close-knit community. Many of the more than a dozen traders and brokers interviewed for this story live near each other in villages dotting the Essex countryside, a short train ride from London's financial district. They stay in touch over dinner, on weekend excursions, or during rounds of golf. "This is a market that is far more amenable to collusive practices than it is to competitive practices," says Andre Spicer, a professor at the Cass Business School in London.
The data used to determine WM/Reuters rates for 160 currencies is collected and distributed by World Markets, a unit of State Street, and Thomson Reuters. Bloomberg LP, the parent of Bloomberg Businessweek, competes with Thomson Reuters in providing news and information, as well as currency trading systems and pricing data. Bloomberg LP also distributes the WM/Reuters rates on Bloomberg terminals.
A story about possible exchange rate manipulation by Bloomberg News in June triggered internal probes as banks began reviewing millions of instant messages, e-mails, and transcripts of phone calls. The U.K.'s Financial Conduct Authority (FCA), the European Union, the Swiss Competition Commission, and the U.S. Department of Justice are investigating currency trading.
At least 12 foreign exchange traders have been suspended or put on leave by banks as a result of internal probes, and 11 firms have said they were contacted by authorities. Government-controlled Royal Bank of Scotland turned over transcripts of instant messages. Deutsche Bank says it's cooperating with regulators, and UBS says it's taking unspecified disciplinary measures against employees. UBS, RBS, Citigroup, Deutsche Bank, JPMorgan, Goldman Sachs, and Lloyds Banking Group are banning traders from participating in chat rooms with employees of other banks, say people at the banks. None of the traders or their employers have been accused of wrongdoing.
One focus of the investigation is the relationship of three senior dealers who participated in The Cartel—JPMorgan's Richard Usher, Citigroup's Rohan Ramchandani, and Matt Gardiner, who worked at Barclays and then UBS—according to the people with knowledge of the probe. Some of the traders interviewed for this story say they eagerly sought entry to The Cartel's chat room because of the influence it exerted. Usher, Ramchandani, and Gardiner, along with at least two other dealers over the years, would discuss their customers' trades and agree on exactly when they planned to execute them to maximize their chances of influencing the fix, two of the people say.
Usher was the moderator of The Cartel, according to people with knowledge of the matter, who say the chat room died when he quit RBS in 2010. He revived the group with the same participants when he joined JPMorgan the same year as chief currency dealer in London, they say. Ramchandani is head of European spot trading at Citigroup. Gardiner joined Standard Chartered in London as assistant chief currency dealer. He previously worked at UBS in Zurich and was co-chief dealer with Chris Ashton at Barclays in London.
Usher, Ramchandani, and Gardiner were put on leave by their employers after the FCA opened its inquiry in October, according to people with knowledge of the matter. Ashton, now global head of spot trading at Barclays, has been suspended, along with five other spot traders at the bank in London and New York. Ashton and Ramchandani declined to comment. Gardiner didn't return messages left on his mobile phone. Usher couldn't be located, and JPMorgan declined to provide contact details for him.
Thomson Reuters says in an e-mail that it "would lend its expertise to support any authorities' investigation into alleged disruptive behavior on benchmarks." State Street says in an e-mail that "the WM/Reuters benchmark service is committed to reliability and robust operational standards. WM continually reviews recommended methodology and policies in order to ensure that industry best practices are considered."
The currency investigations are taking place as authorities grapple with a widening list of scandals involving the manipulation by banks of financial benchmark rates, including Libor and ISDAfix, used to determine the value of interest rate derivatives. "Some of these problems developed over many years without anybody speaking up," says Andrew Tyrie, chairman of Britain's Commission on Banking Standards and Parliament's Treasury Select Committee. "This is remarkable. It suggests something very wrong with the culture at these institutions."
BOTTOM LINE -
The bottom line: Authorities are investigating whether traders used chat rooms to rig rates in the $5.3 trillion foreign exchange market.
Before it's here, it's on the Bloomberg Terminal.
LEARN MORE