Baby Boomers: Poorer in Old Age Than Their Parents
Lee Manchester scrimps while her father travels the world
by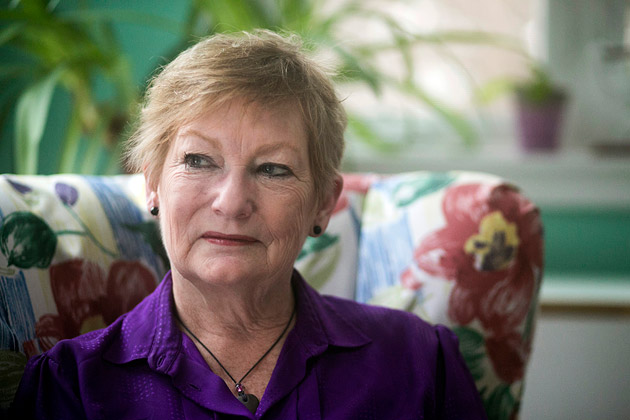 Eighty-seven-year-old Lew Manchester has just returned from a three-week trip touring Buddhist temples in Laos and cruising the Mekong Delta in Vietnam. His 61-year-old daughter Lee lives year-round in the basement of a friend's cottage on Cape Cod. Both worked all their lives, both saved what they could. Yet Lew, a son of the Great Depression and former company man, and Lee, a baby boomer who has pursued careers as an entrepreneur and a midlevel manager, ended up in different economic strata. "Timing is everything," says Lee, who now works at an inn, "and my dad's timing with jobs, real estate, and retirement benefits was better."
While plenty of baby boomers, born from 1946 to 1964, have become affluent, and many elderly across the U.S. face financial hardship, the wealth disparity of this father and daughter is emblematic of a broad shift occurring around the country. Many graying boomers are less secure financially and have a lower standard of living than their aged parents. The median net worth for U.S. households headed by people aged 55 to 64 was almost 8 percent lower, at $143,964, than those 75 and older in 2011, according to U.S. Census Bureau data. Boomers lost more than other groups in the stock market and housing bust of 2008, and in the aftermath many also lost their jobs at a critical point in their productive years.
That's left many ill-prepared to provide for themselves as they approach old age, even as they are likely to live longer than their parents. For the first time in generations, the next wave of retirees will probably be worse off than the current elderly. More than half of those aged 50 to 64 think their standard of living in retirement will be somewhat or much worse than their parents', according to a 2011 survey by the AARP Public Policy Institute. "Baby boomers are the first generation without the safety net of pensions and other benefits their parents have," says Alicia Munnell, director of the Center for Retirement Research at Boston College. "They're facing a much more challenging old age."
Lee Manchester knows her later life will be more austere than her father's. She made a choice early on to become an entrepreneur rather than work for a large company with benefits, as he did. She started a commercial construction company in 1986 with $150,000 from a divorce settlement. She hired a dozen employees and succeeded in landing contracts supplying steel parts for buildings until the construction industry slumped in 1989. Bouncing back, she became a sales manager in the airport parking business. Still, she didn't start saving for retirement until her late 40s, when her employer established a 401(k) account. Today, her retirement savings of $120,000 is right at the median 401(k) balance for households headed by baby boomers, according to 2011 data from the Center for Retirement Research. That will provide just $4,800 a year to boomers when they turn 65, assuming they take out 4 percent annually, the top amount many financial planners say should be withdrawn to assure retirees don't run out of money during their lifetimes.
Even if boomers like Lee saved more, they would have been hurt by a shift to 401(k) accounts from pensions in the 1980s. Thirty-seven percent of the elderly in the U.S. collect pensions, which provide some guaranteed income until they die. Fewer than 10 percent of boomers do, and that number is quickly shrinking.
Lee worked in the airport parking business until 2009 when she was laid off from Parking Co. of America a few months before the company filed for bankruptcy. Although she found a new job in 2010 paying $52,000 a year as manager of the customer service department at Holo-Krome, a manufacturer of metal fasteners, it lasted only two years. She was laid off just as her second marriage ended in 2012.
No longer able to afford her four-bedroom house in West Hartford, Conn., which she purchased for $225,000 at the height of the housing bubble, Lee rents it out for $1,600 a month to cover her mortgage and taxes and hopes to hold it until prices rise so she can recoup her investment. She now lives in the basement of her friend Brita Tate's house in Wellfleet, Mass., paying $400 a month in rent. She found a job managing the spa at the Crowne Pointe Historic Inn in nearby Provincetown, where she earns $13.50 an hour working as a combination hostess, receptionist, fixer of gym equipment, and laundress.
Lew Manchester hasn't worried about money since retiring 23 years ago at 64. Every month, in addition to his $1,750 Social Security payment, he gets two pension checks: $1,000 from Marsh & McLennan, the last insurance company he worked for, and $783 from the military for serving in the Army Reserve for 20 years. He also has more than $800,000 in savings, close to $400,000 of which he cleared from the sale of his Hartford, Conn., home in 2005, when he and his then-ailing wife moved to an assisted-living residence in Northern California. During the next five years, while caring for his wife, who died in 2010, he was able to save more. A long-term care policy he'd purchased years earlier for $500 a month over 10 years paid out more than $275,000, covering most of their living expenses, and it's still available for him to use if he needs it.
Lee has borrowed money from her father in the past and repaid it. She avoids dwelling on her financial difficulties during her weekly calls to him. "I know he'll help me if I fall off the ledge," she says, "but he taught me to be self-sufficient."
Before it's here, it's on the Bloomberg Terminal.
LEARN MORE