JPMorgan Halts Latvia Dollar Deals After Probes, Group Says
Aaron Eglitis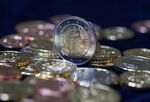 JPMorgan Chase & Co., which has been told by U.S. regulators to bolster money-laundering safeguards, has stopped clearing dollar transfers for Latvian lenders, according to the Baltic nation's banking association.
"JPMorgan was a meaningful partner, no doubt," Martins Bicevskis, president of the Latvian Commercial Banking Association, said in an interview. "But that won't hinder working further and looking for other partners."
Latvia, a hub for ex-Soviet cash, became the 18th member of the euro bloc yesterday, focusing a spotlight on $8 billion of non-resident deposits and claims by Global Witness, a London-based anti-corruption campaign group, that regulation and client vetting aren't adequate. JPMorgan has ended dollar clearing for about 500 foreign banks around the world after the probes and discontinued checking accounts for "politically exposed persons" in other nations it said on Oct. 11.
The exit of the U.S.'s largest bank leaves Deutsche Bank AG and Commerzbank AG as the only two Western lenders Latvian banks can use for international dollar transfers. Some local banks rely on lenders in Russia or Ukraine that have correspondent accounts with a U.S. partner to clear dollars. New York-based JPMorgan declined to comment on Bicevskis's remarks. Deutsche Bank and Commerzbank declined to comment on the potential effect of JPMorgan's absence on their businesses.
Wide Network
"Latvian banks have a pretty wide network of currency clearing partners," the bank association said in a statement today. "Last year, eight correspondent accounts were opened in dollars, but in the last two years 52 accounts in different banks," it said, citing data from the bank regulator.
The U.S. Office of the Comptroller of the Currency issued a consent order in January 2013 after finding JPMorgan "has an inadequate system of internal controls and independent testing" for anti-money-laundering compliance. The bank "failed to identify significant volumes of suspicious activity" and to file reports alerting regulators, according to the order.
JPMorgan didn't admit or deny wrongdoing in consenting to the regulatory orders at the time, saying in a statement that the bank has been "working hard to fully remediate the issues identified in the consent order."
The U.S. lender's decision "had left no impact on the servicing of these banks clients," which have other options to transfer dollars, the country's bank regulator said in a statement. "This is not connected with Latvia or Latvia's bank sector. JPMorgan has substantially decreased the volume of operations with a succession of banks in many countries."
HSBC, Commerzbank
HSBC Holdings Plc, Europe's biggest bank, agreed in 2012 to pay $1.92 billion to settle U.S. money-laundering probes. Commerzbank, Germany's second-largest lender, said in October that it would take steps to bolster money-laundering controls after the U.S. Federal Reserve issued a cease-and-desist order.
JPMorgan said in August that it was reviewing its correspondent banking unit and wouldn't take on new clients or new business.
Losing access to correspondent banks could raise the cost of doing non-resident business, according to Gene Zolotarev, chairman of Geneva-based asset-management and advisory company Maximus Capital SA.
"It means it's more expensive to get access to a dollar clearer for smaller banks," he said by phone. "You can still clear U.S. dollars -- you just have to go through more layers of middlemen to make payments."
UN Report
Companies in Latvia helped officials from Ivory Coast violate international sanctions, according to a report by the UN Security Council.
About $30 million of cash from Kyrgyzstan was sent through ABLV Bank AS, Latvia's biggest bank by deposits, in transactions that may constitute money laundering, Global Witness said in a 2012 report. ABLV denies the allegation.
"Their reputation still suffers -- fairly or not -- from the problems of the last decade," Michael Dawson, a former senior adviser at the U.S. Treasury and currently managing director at Washington-based Promontory Financial Group, said by e-mail. There's also "the perception that some banks are weaker than others and may be trying to sneak into the dollar-clearing system through nested relationships."
Dollar correspondent accounts are important for the global movement of money, said Dawson. "Most financial institutions underestimate both their need for access to the dollar clearing system and the regulatory exposure that brings," he said.
Closely Monitored
Officials including Latvian central bank Governor Ilmars Rimsevics say lenders are being closely monitored. While regulators fined a local bank in June the maximum 100,000 lati ($194,000) for transferring money in Russia's biggest known tax fraud, they didn't name the bank in question.
Latvia has said it will act should risks increase in its non-resident banking industry, according to a June letter to Dutch Finance Minister Jeroen Dijsselbloem from the Finance Ministry in Riga.
As well as imposing more restrictions on demand deposits and reconsidering tax incentives that bolster non-resident deposits, the government may also strengthen law-enforcement efforts to combat money laundering, according to the letter, published on the Latvian Finance Ministry's website.
"Since 2007 we have implemented in law and in practice procedures that in old Europe, for many, they only see in their dreams," Bicevskis said.
Latvia's 27 banks had assets of about 20 billion lati in the third quarter, banking association data show.
Before it's here, it's on the Bloomberg Terminal.
LEARN MORE