Corn Caps Biggest Drop Since 1960 as Harvest Rises to Record
Whitney McFerron and Phoebe Sedgman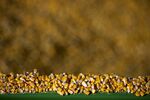 Corn fell, capping the biggest annual drop since at least 1960, and wheat tumbled the most in five years as grain production climbs to records worldwide and outpaces demand for food, livestock feed and use in biofuels.
Corn plunged 40 percent in 2013, the most among 24 commodities in the Standard & Poor's GSCI Spot Index, as the U.S. harvest rose to a record, recovering from the prior season when crops were hurt by the worst drought since the 1930s. Farmers worldwide are producing record amounts of everything from soybeans to wheat, leaving food costs tracked by the United Nations 13 percent below an all-time high reached in 2011 and spurring banks including Goldman Sachs Group Inc. to predict further declines in crop prices in 2014.
"We've moved from a deficit environment to a surplus environment with big crops in the U.S.," Chris Gadd, an analyst at Macquarie Group Ltd. in London, said by telephone today. "Rather than trying to ration demand, the function of price now is to try and find demand."
Corn futures for March delivery slid 0.4 percent to close at $4.22 a bushel at 1:15 p.m. on the Chicago Board of Trade. The grain declined 0.9 percent yesterday as rain improved prospects for crops in South America, where conditions in some areas had been hot and dry. Prices fell 50 percent from a record $8.49 reached August 2012 during the height of the U.S. drought.
The U.S. corn harvest, the world's biggest, will total 355.3 million metric tons, rebounding 30 percent from the prior season, the U.S. Department of Agriculture estimates. That will push global output to a record 964.3 million tons, overtaking consumption for a third straight year, the USDA says.
Soybeans, Wheat
Soybean futures for March delivery fell 1.2 percent to $12.925 a bushel, leaving prices down 8.3 percent this year. Wheat futures for March delivery gained 0.8 percent to $6.0525 a bushel, after touching $5.99, the lowest for a most-active contract since May 2012. The grain fell 22 percent in 2013, the most since 2008.
Global grain production will reach 1.94 billion tons in 2013-2014, the most ever, the London-based International Grains Council estimates. Rising supplies mean the world's food-import bill may drop to $1.15 trillion in 2013, or 3.2 percent less than a year earlier, the UN estimates. Goldman Sachs said Dec. 5 that corn would fall to $3.75 and soybeans to $9.50 in 12 months.
Before it's here, it's on the Bloomberg Terminal.
LEARN MORE