A Fresh Oil-Train Explosion Hits America's Risky Energy Bottleneck
By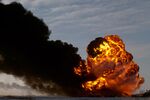 For the fourth time in less than six months, a train carrying crude oil across North America has derailed, triggering a massive explosion. A small town in North Dakota just west of Fargo was evacuated after two trains collided on Monday, one carrying thousands of barrels of crude, the other filled with soybeans. Despite a huge fireball captured on video, no one was killed.
A train carrying crude derailed outside Edmonton in October. It happened again in November, when a train wrecked in Alabama, spilling thousands of barrels of oil into a marshland (with environmental damage apparently limited only by nearby beaver dam). The biggest disaster, though occurred back in July, when a train carrying 72 carloads of crude oil (roughly 50,000 barrels) rolled eight miles down a hill and crashed into the Quebec town of Lac-Megantic, killing 47 people and pretty much destroyed the town.
In each case, the trains were carrying crude from the Bakken formation in North Dakota. Monday's train was heading east, presumably as part of the veritable Cannonball Run of crude being shipped from North Dakota to East Coast refiners. Sadly, this is what happens when oil production outpaces our ability to efficiently and safely move it around. Until recently, the biggest casualty of this bottleneck was the price of all that crude stuck in the middle of the country. Over the past three years, a barrel of domestic U.S. oil has been on average $15 cheaper than its international equivalent.
The U.S. oil boom caught the pipeline industry flatfooted. As domestic oil production  increased by more than 2 million barrels per day over the past two years, pipeline companies have been scrambling to reorient their network of pipelines, building expensive, new ones and making costly fixes to reverse the flow of existing lines. Those projects take years and cost billions of dollars. Meanwhile, the railroads beat them to the punch.
That's nowhere more the case than in North Dakota, where more than 70 percent of all Bakken crude leaves the region by train. (Next year, the figure is expected to reach 90 percent.) Railroads are hauling 20 times the amount of crude they carried back in 2009, according to the Association of American Railroads.
On one hand, the crude-by-rail boom is a great example of the free market in action: Private enterprise fills an unmet demand and creates profits along the way. The train that crashed Monday was operated by BNSF, the country's second largest railroad, which was bought by Warren Buffett's Berkshire Hathaway in 2010. Whether he foresaw the crude boom or not, moving oil has been hugely profitable for BNSF over the past two years.
The risks should be obvious by now. As my Bloomberg News colleague, Tim Catts, wrote this morning, even though more oil gets spilled from pipelines, railroads have a higher rate of mishaps. And when things go wrong, the risks are far greater. Although the largest oil spill on U.S. soil happened in October, when a pipeline burst and 20,000 barrels of crude leaked into a North Dakota wheat field, no one was hurt. No fireball raged.
It's hard to see how the latest disaster could have been avoided: Reports indicate that the train carrying soybeans derailed first, crashing into the path of the crude train, which was traveling in the opposite direction.
Still, improvement could start with upgrades to the durability and strength of the cars that carry oil. Trains with oil might proceed more slowly, giving them more time to stop when danger presents itself. Such fixes would undoubtedly raise the cost of what's already a pricey effort to move oil thousands of miles on rails.
What's clear, though, is that just a few years ago, that crude train wouldn't have been there. Any train would have probably been carrying grain. Instead of a mushroom cloud rising hundreds of feet above a snow-covered prairie, there would have been a bunch of soybeans to clean up.
Before it's here, it's on the Bloomberg Terminal.
LEARN MORE