Orange Juice's 2014 New Year's Resolution: Get Its Healthy Image Back
By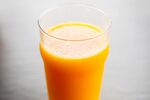 Orange juice has fallen on hard times. In the past decade, global consumption of OJ has dropped 12 percent, led by a 29 percent fall in the U.S. and a 34 percent decline in Germany, markets No. 1 and 2, respectively. Of the top five markets, only the French drank more orange juice, and that increase was small. Put another way, Americans have gone from drinking 5.5 gallons per person in 2000 to a mere 3 gallons in 2012, according to Bloomberg News.
Citrus marketers in Florida, the world's second-largest orange producer after Brazil, have long touted a glass of orange juice as an important "part of this complete breakfast" and a nutritious and refreshing part of a healthy diet. Lately that health halo has been waning. A typical 8-ounce serving of orange juice has 110 calories and 26 grams of carbohydrates—more than a pair of Oreos—and the millions of people watching their weight or their blood sugar are increasingly opting for water or zero-calorie drinks. Parents are also increasingly skeptical: The American Academy of Pediatrics notes that juice has no health benefits over whole fruit, and some day care centers and preschools tout no-juice lists along with zero-peanut policies.
For orange growers, the glass isn't half-empty—it's too big. The solution? Go smaller—have a little glass of orange juice instead. Lots of consumers may be willing to have a small glass of OJ in the morning, according to a Nov. 20 presentation by Brazilian marketers to the Florida Citrus Commission in Polk County, the largest of the state's 32 orange-producing counties. For the growers, a few slurps of OJ in the morning is better than none.
In a way, it's not terribly unlike the story of what befell carbonated soda, now vilified in public health ads as little more than a pile of sugar. Efforts to restrict access to soda, particularly for kids, have largely failed, but New York City Mayor Michael Bloomberg did manage to restrict the size of containers. (The ban is now being challenged in court; Bloomberg is the owner of Bloomberg LP, the parent company of Bloomberg Businessweek.)
The orange juice industry hopes to fight the same fate with a 12-month marketing campaign. "The program will focus heavily on health professionals such as pediatricians, family physicians, nurse practitioners and registered dietitians who influence dietary decisions for families and children," the citrus department said in a summary of the Nov. 20 meeting.
It also may need to address cost. Fresh orange juice prices are expected to increase next year due to what's expected to be the smallest Florida orange crop in 25 years, at 121 million boxes, down from 134 million boxes last year. (A box is 90 pounds of the fruit.) Brazil is expected to produce 435 million boxes for the year ending June 30, 2014, according to the USDA's Foreign Agricultural Service.
Before it's here, it's on the Bloomberg Terminal.
LEARN MORE