Abe Shrine Visit Risks Upending Japan's China Export Gains
Andy Sharp and Sharon Chen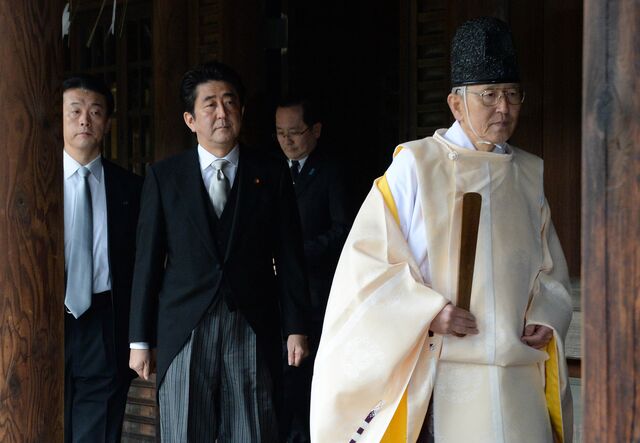 Hurdles for Japan's economy next year may increase after Prime Minister Shinzo Abe's visit to a shrine honoring war criminals and others risked deepening tensions with his nation's largest trading partner.
The economy, already facing the first bump in the sales tax in 17 years and contending with an erosion in household purchasing power as consumer prices rise, now confronts the potential for damage to exports. Shipments to China have surged, with Toyota Motor Corp. reporting this month it was on pace for record deliveries in the country.
Abe, 59, drew criticism from China and South Korea with his appearance at the Yasukuni shrine in Tokyo, the first by a sitting prime minister in more than seven years. Diplomatic tensions risk rivaling economic reforms for the premier's attention as he embarks on his second year leading an administration seeking to end 15 years of deflationary malaise.
"Trade relationships, especially with China, will suffer," said Takuji Okubo, chief economist at Japan Macro Advisors in Tokyo who used to work at Goldman Sachs Group Inc. "The political uncertainty will hurt business confidence and Japan's economic growth."
Trade between Japan and China has almost tripled since 2000 to about $250 billion, raising the commercial cost of political fallout between Asia's two largest economies.
Actions on both sides have imperiled ties in the past decade. Former Prime Minister Junichiro Koziumi made the last of several appearances at the shrine in 2006 -- visits that China and South Korea criticized.
Maritime Collision
A collision in contested waters between a Chinese fishing boat and a Japanese Coast Guard vessel in 2010 prompted China to stop granting export licenses to Japan for rare earth metals used in the automobile and electronics industries.
The situation flared up again last year, when the Japanese government bought three of the disputed islands in the East China Sea -- known as the Senkakus in Japan, and the Diaoyu islands in China. Demonstrations and attacks by anti-Japan protesters ensued, and Chinese vessels increasingly entered waters claimed by Japan.
Japanese merchandise exports to China rose 33 percent in November from a year earlier with shipments of cars climbing 269 percent last month, highlighting the thawing of trade ties. Japan also has benefited from a return of Chinese tourists, whose numbers almost doubled to 101,900 in the same period.
Sales Declines
Following Abe's visit yesterday, Nissan Motor Co. said it was "closely monitoring" developments in Japan-China ties, while Honda's Beijing-based spokesman, Zhu Linjie, declined to comment, citing the company's policy against commenting on politics.
Asian Development Bank President Takehiko Nakao said yesterday in an interview in Tokyo that the lender isn't factoring in an escalation in bilateral tensions into its forecasts at this point. He noted that Japanese stocks gained even after the news.
The Topix index of shares closed yesterday at its highest since 2008 as a weaker yen boosted exporters.
"While definitely not favorable, the direct impact will be more muted than many people expect," said Masamichi Adachi, a senior economist at JPMorgan Chase & Co. in Tokyo. "Abe's intention was well known, and I don't expect that China or South Korea would do anything that would damage the relationship further."
'Major Obstacle'
Cheng Yonghua, China's ambassador to Japan, said yesterday that the visit creates a "major obstacle" in relations, and Japan must take responsibility for the fallout.
While Abe said in a statement that it wasn't his intention to hurt the feelings of the Chinese and Korean people, the U.S. embassy in Japan said in statement yesterday that the visit would "exacerbate tensions" with Japan's neighbors.
Abe's act could also further hurt economic relations with South Korea. The move was "deplorable," South Korean Culture Minister Yoo Jin Ryong said yesterday. The shrine "glorifies Japan's history of militaristic aggression and colonial rule," Yoo told reporters in Seoul.
Japan's economy is set for a one-quarter contraction in April-to-June next year after a 3-percentage-point increase in the consumption tax takes effect. Sliding salaries may also increase pressure on domestic consumption as price increases begin to take root, acting as a brake on growth.
Wages excluding bonuses and salaries fell 0.7 percent in October -- a 17th straight monthly drop. Data today showed a 1.2 percent increase in consumer prices excluding fresh food in November from a year earlier.
Structural Reforms
The Yasukuni visit came ahead of plans by Japan's cabinet to set priorities for structural reforms designed to boost business opportunities and stoke domestic demand. The growth strategy is one of what Abe calls the three arrows to revive the economy, along with monetary stimulus and fiscal spending. Reducing regulation in areas from labor law to agriculture would mean overcoming vested interests.
"The visit may sidetrack Abe tremendously from implementing his Abenomics policies," said Koichi Nakano, a professor of political science at Sophia University in Tokyo. "It will become harder for him to keep his focus on the economy and implement reforms for growth."
Before it's here, it's on the Bloomberg Terminal.
LEARN MORE