Tesla Shares Rise After Model S Keeps NHTSA 5-Star Rating
Alan Ohnsman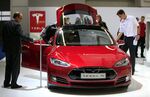 Tesla Motors Inc., the electric-car maker being reviewed by U.S. regulators over battery-related fires, jumped in New York trading after saying the safety rating for its Model S sedan is reaffirmed for the 2014 model year.
The flagship vehicle from the Palo Alto, California-based company, with a $70,000 base price, retains a 5-star rating for crashworthiness, the highest designation given by the National Highway Traffic Safety Administration. The agency opened a review of the car last month after fires in Tennessee and Washington state occurred when drivers struck metal debris.
"Any good news is going to send this stock higher," James Ramelli, a strategist for Keeneonthemarket.com, said in a Bloomberg Television interview. "In the last couple of days of the year, a lot of fund managers are going to want to buy Tesla at these lower levels."
Tesla advanced 5.5 percent to $151.41 at the close in New York. While the stock has soared more than fourfold this year, it had plunged 26 percent through yesterday from a record high closing price of $193.37 on Sept. 30 after the battery-related fire reports.
A third fire occurred in Mexico when a driver hit a concrete barrier at high speed. There have been no reported injuries resulting from any of the collisions.
NHTSA hasn't said when its review will be completed. Germany's transportation regulator cleared the Model S of any safety defect this month, removing the possibility of a recall of the car in that country.
German Review
"While Tesla is awaiting feedback from NHTSA regarding their investigation of recent fire incidents, the German Federal Motor Transport Authority, Kraftfahrt-Bundesamt, recently concluded its review of the incidents, finding no manufacturer-related defects or need for further action," Tesla said yesterday in an e-mailed statement.
European sales of the Model S began this year, and Tesla plans to start selling the car in China in 2014. The company, led by billionaire Elon Musk, has set a goal of delivering 21,500 units globally of the rechargeable sedan this year.
"People that really want a Model S have researched it and know it's a very safe car," said Jessica Caldwell, an analyst for Edmunds.com, a vehicle pricing and data service in Santa Monica, California. "Those same buyers are also likely to dismiss concerns about the battery."
Tesla's U.S. safety rating for 2014 was posted to the Transportation Department's www.safecar.gov website.
Before it's here, it's on the Bloomberg Terminal.
LEARN MORE