Telefonica Deutschland, E-Plus Deal Gets In-Depth Probe
Aoife White and Cornelius Rahn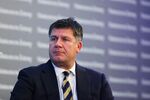 Telefonica Deutschland will be probed by European Union regulators over its bid for Royal KPN NV's E-Plus unit, a deal combining two of Germany's four mobile-phone operators.
The European Commission set a May 14 deadline to rule on the deal, saying it had concerns that the transaction may reduce competition for retail customers and for wholesale access bought by mobile virtual network operators that offer phone services.
Virtual operators that piggyback on networks "would have less choice of host networks and hence weaker negotiating power to obtain favorable wholesale access terms," regulators said in an e-mailed statement. "The reduction in the number of competitors following the merger would increase the likelihood" that operators may "coordinate their competitive behavior and increase prices."
The 8.55 billion-euro ($11.7 billion) transaction to combine the companies' German units will create the country's largest wireless carrier by customers, surpassing the local units of Deutsche Telekom AG and Vodafone Group Plc. It is one of two deals that may transform the country's telecommunications industry, once dominated by Deutsche Telekom. EU regulators have already given the go-ahead to Vodafone's bid for Kabel Deutschland Holding AG.
Telefonica 'Confident'
Telefonica Deutschland is "confident that the authorities will approve the deal as a third strong mobile network operator will foster competition in Germany to the benefit of the customers," Albert Fetsch, a spokesman for the Munich-based unit, said in an e-mail. "A detailed evaluation and assessment is common for a deal of this size." Fetsch restated the company's intention to complete the deal, announced in July, by mid-2014.
Guido Heitmann, a spokesman for Dusseldorf-based E-Plus, said the EU statement wasn't a surprise and the company was "confident that we can convince the antitrust regulator of the advantages of the transaction."
Regulators said they will investigate how closely the merging companies currently compete, how rivals will react and possible positive effects for consumers if the deal enables the companies to roll-out 4G mobile networks. The opening of an in-depth EU probe rejects a request by Germany's antitrust agency to rule on the transaction.
European 'Earthquake'
Telefonica Deutschland will absorb E-Plus, which pioneered wireless flat rates in Germany in 2005 and led rounds of price cuts. Consolidation in Germany would "create an earthquake in Europe," Paris-based Orange SA's chief executive officer, Stephane Richard, said in September.
Deutsche Telekom is concerned about the combined firm's control of wireless frequencies above 1 gigahertz where there is "a massive imbalance and solutions have to be found," a spokesman, Philipp Blank, said yesterday in an e-mail.
A combined Telefonica Deutschland and E-Plus would hold about 387 megahertz of spectrum, compared with 155 MHz each for market leaders Deutsche Telekom and Vodafone. While frequencies in the 800- and 900-MHz range are evenly distributed, Telefonica would vastly outstrip its rivals in short airwaves of 1.8 gigahertz and higher, licenses best suited for serving a large number of customers grouped in narrow spaces, such as cities.
Regulators' attitude toward consolidation is also being tested in Ireland. The EU last month opened an in-depth probe into Hutchison Whampoa Ltd.'s plan to buy Telefonica's Irish unit, the country's No. 2 operator. A ruling will be issued by March 24.
Before it's here, it's on the Bloomberg Terminal.
LEARN MORE