pursuits
GrubHub Puts Data on Its Menu
The online food order company is pitching analytics to restaurants
By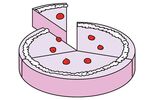 Things were hectic at Slice on a recent Friday as the month-old cake shop in downtown Chicago hit its afternoon rush. Orders poured in, the gingerbread Bundt cake ran out, and a four-slice delivery order went missing. Slice isn't a typical restaurant: The manager, relaying online orders from her tablet to line workers, is Sandra Dainora, director of product for GrubHub. In fact, everyone working at Slice is a GrubHub employee, serving cake to co-workers from a conference room in the headquarters of the online takeout company.
Slice is part of GrubHub's crash course on the food industry. Earlier this year, the nine-year-old company merged with its largest rival, 14-year-old Seamless, leaving the combined entity, which has maintained both brands, the dominant player in food delivery. Chicago-based GrubHub Seamless says it will process $1 billion in sales for 2013, filling an average of 150,000 orders a day from some 26,000 restaurants in 600 cities. It plans to add 100 employees to its 650-person workforce and says it's profitable.
GrubHub's expertise is concentrated mostly on the tech side of the business. Though its offices are full of former waitresses and busboys, it hasn't focused on recruiting people with high-level restaurant experience. For the past six months, GrubHub has been sending employees from its headquarters to work in kitchens and ride along on deliveries, logging a total of 800 hours of research. Slice uses a rotating staff of volunteers to help remind employees of the realities of food service.
The company's endgame is to embed further into restaurants' operations to help justify its commissions, which cost at least 10 percent of the food order and can run more than twice that, past a certain order volume or in exchange for better placement in search results. In the last year and a half, GrubHub Seamless has developed a smartphone app for delivery drivers and begun giving restaurants tablets to handle orders. It also employs account managers to provide advice to restaurants based on industry sales data. Sports bars know they'll sell more hot wings during National Football League games than at other times, but the company claims it can tell restaurants in a particular neighborhood just how much chicken they'll need. "Engagement is the key," Matt Maloney, chief executive officer of GrubHub Seamless, says of the company's new mobile system, known as Order Hub. "The challenge is getting this into the restaurants in a way they accept and use on every single delivery."
Some of the changes inspired by GrubHub's research seem obvious, such as making order notifications on tablets extra loud to be heard over the din of the kitchen. A little more complex: When restaurants run out of an item such as Bundt cake, employees can adjust their online menus instantly using the tablets. Half of all GrubHub orders are now processed on tablets.
GrubHub Seamless's biggest problem may not be technological. Small businesses are notoriously skeptical of companies offering data services, especially with commissions as high as GrubHub's, says Rocky Agrawal, an analyst for consultancy ReDesign Mobile. Convenient tablets aren't enough to offset a 20 percent to 25 percent revenue cut, he says: "The primary value of Order Hub is to GrubHub, not the restaurant." Agrawal says it's in restaurateurs' best interests to play GrubHub Seamless against competing services such as Delivery.com and Eat24.
GrubHub has been slow to improve its most ambitious tech project, a driving app that allows customers and restaurants to track delivery vehicles in real time, much like Uber does for car-service drivers. A year after its initial release, GrubHub is still testing the app with a small number of drivers. Dainora, who began conducting ride-alongs with drivers in the spring, says they tend to overstate how well they know the city. "It's always interesting to observe people in their natural environment, hearing what they say, then seeing how that differs from what they actually do," she says. The company has added turn-by-turn directions to the app.
To test the app, GrubHub took over deliveries for Kuma's Too, a heavy metal-themed burger place. During the week of Dec. 8, Dainora spent three afternoons driving around the city, listening to Biggie Smalls and learning about common driver frustrations, such as customers who don't answer their doorbells or phones. Maloney says his company still has a lot to learn. "Nobody really understands what a delivery driver does," he says.
Before it's here, it's on the Bloomberg Terminal.
LEARN MORE