Fleur Pellerin Works to Make France Safe for Tech Startups
Can Korean-born Fleur Pellerin make France safe for startups?
Vivienne Walt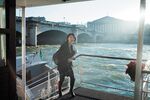 The 12 guests of honor might have felt out of place as they sat down for lunch in October at the Elysée presidential palace in Paris. With its crystal chandeliers, gilded walls, and manicured gardens, the palace is a more natural setting for foreign dignitaries and heads of state than for the technology entrepreneurs who assembled for a three-hour meeting with President François Hollande. Seated next to the president was the person who'd persuaded him to clear his afternoon: a petite, 40-year-old woman of Asian descent named Fleur Pellerin. As deputy finance minister for digital innovation, Pellerin's mission is to turn France into one of Europe's premier hubs for tech startups. Doing so will require galvanizing not just entrepreneurs and investors but France's political leaders as well.
As the others dined on fish, cheeses, and wine, Pellerin made her pitch to Hollande: In order for France to revive its economy, the country must overhaul a business culture that too often stifles innovation. "It was a deep dive," says Marie Ekeland, a partner at the Parisian venture capital firm Elaia, who was at the lunch. "To have the president of France spending three hours trying to understand what's going on with the digital economy is totally new. And a lot of that is thanks to Fleur Pellerin."
There's little question France needs change. Growth contracted in the third quarter of 2013, and unemployment is at its highest level in 16 years. Hollande, a Socialist, has tried to slash the huge public deficit (about 4 percent of gross domestic product) through steep tax hikes, rather than more fundamental labor and financial reforms; Standard & Poor's has twice downgraded France in the past two years. During the rise of the Internet, the country has lagged behind the U.S. and European rivals such as the U.K. and Germany, which now boast dynamic startup scenes.
Pellerin and others argue that high-tech enterprises are the surest path to growth. A 2011 McKinsey report estimated that the French technology sector has the potential to create about 450,000 new jobs by 2015 and account for 5.5 percent of GDP if the government takes more aggressive steps to support the industry. The country has produced a few Internet billionaires, such as Xavier Niel, chief executive officer of telecom company Iliad, and has a plentiful supply of engineers. But this is still France, home to benefits that millions cherish, such as long vacations, strong labor protections, 35-hour workweeks, even limits on Sunday shopping—all of which are at odds with the hard-charging entrepreneurial society Pellerin envisions.
As a junior minister, Pellerin toils within a Finance Ministry famous for its clashing fiefdoms and outsize egos, virtually all male; French journalists dub it the citadel. Unlike most of those above her, Pellerin has never been elected to office, but her charm, intellect, and access to Hollande—she worked as an adviser on his 2012 presidential campaign—have bolstered her influence. At Pellerin's urging, the Finance Ministry announced in November a €215 million ($296 million) plan to invest in special zones for Internet startups and promote the companies globally. Pellerin was part of a joint government-industry task force that won other key concessions for startups. Hollande dropped plans to raise the capital-gains tax, which would have walloped tech companies. And the task force secured changes to rules that had restricted access to capital for entrepreneurs whose earlier startups had failed.
Even so, bolstering French startups and attempting to lure Silicon Valley partners into the effort is a tricky balancing act, and Pellerin is finding the two goals aren't always compatible. Sunk into a couch one morning in November, in her office overlooking the Seine in the grand ministerial quarters (the lobby features a Michelangelo sculpture), Pellerin says one of her biggest challenges is overcoming French suspicions of the business world. Her countrymen traditionally regard wealth and success as unfit for polite conversation. Most would prefer a reliable job in the civil service or at a big corporation, rather than rolling the dice at a startup. "In the U.S., if you've failed in one company, investors consider you to have experience. In France, people are very stressed about failing," she says. "I am working on the mindset, on the culture, not only in the government but in the whole society."
 
 

It's hard to think of a high-ranking French official with less promising beginnings than Pellerin. Born in South Korea in 1973, she was found as a tiny bundle, a few days old, abandoned on a street in Seoul. A local orphanage took her in and named her Kim Jong Suk. Six months later a French couple, Joël and Annie Pellerin, came looking for a baby to adopt. They flew the infant home to France, where young Fleur enjoyed a conventional upbringing in the Paris suburbs. Her father, the first from his village in northwestern France to graduate from high school, started a business selling gene-sequencing devices to medical facilities. Her mother, who had quit school at 16 to help her parents, drummed a message of financial independence into Fleur and her younger sister, also a Korean adoptee. "She always told me that school and education was the chance I needed to take if I wanted to get ahead," Pellerin says. "It was a very powerful incentive."
After earning her business degree at 21, Pellerin went on to the École Nationale d'Administration, France's most elite graduate school. She finished near the top of her class and landed a spot at the Cour des comptes, or National Audit Court, a semi-judicial body that regulates public finances, where Hollande had also served. In 2012 she joined Hollande's campaign staff, focusing on how to invigorate France's high-tech industry. "There was an absence of vision during the campaign about how the digital world could transform the economy, but Fleur got it," says Marie-Vorgan le Barzic, managing director of a tech-industry group called Silicon Sentier, who worked closely with Pellerin during the presidential campaign. "She wasn't one of the dinosaurs or apparatchiks."
Pellerin is the first French-Asian person ever appointed to the top ranks of government. France's Parliament, too, is still heavily white, with only nine minority representatives out of the 577 members. Even in a cabinet that is half female, Pellerin stands out (in part for her well-documented high-fashion wardrobe). Despite her unconventional origins, she's an old-fashioned French official who has passed through the predictable feeder schools and jobs. Pellerin says her family rarely discussed her adoption, and that she thinks of herself as thoroughly French. "Even when I look in the mirror, I don't see someone who is Asian," she says.

Pellerin is shrewd enough to know when her background can be an asset. Last March she flew to Seoul to meet government officials and executives, her first visit to Korea since her adoption. About 25 TV crews greeted her at the airport, and several trailed her for days through the city. Strangers plied her with gifts in a street market. The Korean Broadcasting Service aired a one-hour documentary on her life. "They were fascinated," says Aymeril Hoang, a staff adviser to Pellerin, who accompanied her to Seoul. "She was a rock star." Pellerin met privately with Korean President Park Geun Hye and with Samsung's vice chairman and heir apparent, Jay Y. Lee. "I wasn't expecting that sort of mania," says Pellerin. "People kept asking, 'What do you feel?' " Under the circumstances, "it wasn't possible to have really personal feelings." It was, nonetheless, great for business. Samsung has since opened a product development center in Paris to design apps and software for the Galaxy smartphone and other devices, one of four such Samsung centers worldwide.
Pellerin's relationship with Silicon Valley is more complicated. Last June she flew to San Francisco for a round of meetings with industry heavyweights, including Facebook's Sheryl Sandberg, Google Vice President David Drummond, and venture capitalist Marc Andreessen. The trip came at a delicate time. One month before, her direct boss, Industrial Renewal Minister Arnaud Montebourg, had erupted over an offer by Yahoo! to buy a 75 percent stake in the video-sharing site Dailymotion, in which the French government has a sizable stake. Montebourg said he would not allow Yahoo to "devour" a homegrown "French nugget." After Yahoo CEO Marissa Mayer walked away, Dailymotion's execs swallowed their disappointment. "We decided to tourne la page," says CEO Guiseppe di Martino.
The decision, however, undermined Pellerin's attempts to pitch France as ripe for U.S. tech investment. Montebourg had scuttled a major deal with a U.S. giant—the kind Pellerin and others believe French startups need to grow into global powerhouses. The incident left Pellerin pitching her grand plans to Silicon Valley but uncertain of backing from above. Pellerin told reporters upon arriving in San Francisco, "We are absolutely not in a crusade against American companies or Americans. On the contrary, my purpose is to visit great tech companies and discuss with them the possibilities of partnerships."
She was met with skepticism. Andreessen told Pellerin she came from a country that's "not very agile and has many problems," according to Hoang, who accompanied her. Pellerin, who speaks flawless English, held her ground, pressing France's virtues: excellent schools and a profusion of top-rated engineers (several of whom have decamped to Silicon Valley). Afterwards, recalls Hoang, Andreessen told Pellerin she was "more modern than I'd expected from a French politician."
And yet Pellerin herself has expressed misgivings about the major U.S. tech companies' dominance in France, where a generation has grown up hooked on iPhones and YouTube. Facebook estimates it has about 26 million French users. In 2011, Google bought a €100 million building in Paris's 9th arrondissement, which is now its headquarters for parts of Europe, the Middle East, and West Africa. French unease has deepened since the disclosures of former U.S. National Security Agency contractor Edward Snowden. When Google launched its Cultural Institute at its Paris headquarters in December, Minister of Culture and Communications Aurélie Filippetti refused to participate in the opening ceremony, saying she didn't want to support a company whose operations "still raise a certain number of questions." Pellerin, who did attend the event, has also railed against the NSA's surveillance programs. When reports revealed the agency had snooped on millions of French citizens, with the tacit consent of U.S. tech companies, Pellerin went on the radio to express her outrage.
Sitting in her office in November, she was still fuming over the revelations, saying the NSA "cannot justify the surveillance of a whole population." So, is Snowden a hero or a villain? She demurs, saying, "We have not had that debate in France." Pellerin adds, "I'm a civil servant [and] I consider you have the obligation of discretion, to be loyal to your hierarchy. But when you see something that is illegal, you have the right to say it, and sometimes you have the obligation to say it."
The Snowden leaks exploded just as U.S. technology companies were coming under fire in France for tax avoidance. The involvement of American companies in the surveillance programs has made them more vulnerable to regulation. At a European Union summit in Brussels in late October, France pushed to force U.S. technology giants to pay taxes in countries where they earn revenue, a measure Pellerin supports.

In November, France banned Amazon.com from delivering books for free, saying the company risked driving the country's independent bookstores out of business. To Pellerin, all those moves make financial sense, though she says she realizes that Amazon's superior service is likely to win out ("Jeff Bezos is a genius," she says). Within the Paris offices of big U.S. companies, there's a sense that at home Pellerin is less hospitable to foreign companies. One French representative for a major U.S. tech company says that when Pellerin went to Silicon Valley, she expressed support for U.S. companies' expansion in France but in Paris sounded more protective of French business interests.
 
 
One chilly morning, I meet Adrien Schmidt, CEO and founder of a French big-data startup called Squid Solutions, for a walk around the Sentier neighborhood in Paris's 2nd arrondissement. Amid the old covered passageways, many tiny storefronts that once housed clothing manufacturers are being taken over by startups. "I see here in five years' time there'll be hundreds of startups," Schmidt says. He believes Pellerin is playing a crucial role in "evangelizing the administration" and convincing officials that high-tech entrepreneurs "aren't just geeks sitting in a corner." But even he knows the limits of his dream of creating a Silicon Valley in France. In October he pitched a venture capital firm in the Boston area, looking for new investors for Squid. One potential investor e-mailed back: "After some very negative experiences with the ridiculously generous French employment law, one of my partners has refused to even consider investing in any company with French employees."
When Uber, the taxi app, was launched in Paris (where taxi service is a perennial gripe), the government imposed a 15-minute minimum wait time on its orders in an effort to protect the medallion cab companies. Nicolas Colin, a veteran technology entrepreneur in Paris whom the government commissioned to write a report on taxation and the digital economy, blasted French regulations on the website Rude Baguette, saying excessive rules undermined startups' prospects, especially since the 15-minute rule also affects the French taxi startup LeCab. "Under such conditions, U.S. companies thrive, while the French ones are literally prevented from being born," he wrote, arguing that investors would rather put money in U.S. startups than face layers of regulations for French enterprises.
Pellerin has work to do. Among other things, she has pushed for legislation that would change the government's definition of innovation and tilt public financing away from big corporations and toward startups. One evening in November thousands of people converged on a six-story building on Rue du Caire in the Sentier district for the inauguration of Numa, a tech startup incubator. The €2 million renovation of the former clothing factory was financed by Google and the city of Paris. Pellerin arrived in a cropped leather jacket, clingy dress, and spiked-heel boots, her bright lipstick setting off her all-black outfit.
Inside, she told the audience of tech executives and government officials that projects such as Numa are key to her plan to harness the creative potential of entrepreneurs. "We want France to be among the leading nations for digital innovation," she said, listing France's advantages, such as sophisticated infrastructure, nationwide broadband access, and attractive cities like Paris. "C'est 'le French touch,' " she laughed.
There was loud applause from the audience. And then the neighborhood celebrated the opening of Numa with an all-night block party—organized through Facebook.
Before it's here, it's on the Bloomberg Terminal.
LEARN MORE