Apple's Sudden Urge to Splurge
The iPhone maker's acquisitions tripled in fiscal 2013
By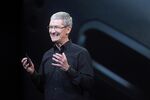 Apple isn't anyone's idea of an acquisition machine, especially compared with Google or Oracle. Even as Apple has piled up cash—almost $150 billion—it's largely kept to the go-it-alone ethos established by Steve Jobs. In 2013, as profits plateaued for the first time in about a decade, that changed: The iPhone maker snapped up businesses that offer it a chance to add technology for future products.
Chief Executive Officer Tim Cook said in October that Apple bought 15 companies in the fiscal year that ended in September, compared with five known acquisitions in the previous one. Although the broader implications of the purchases remain to be seen, some shore up areas where Apple wants to improve, from search and mapping software to semiconductors. The company declined to comment for this story.
Since January, Apple has bought 10 businesses, most recently social analytics company Topsy Labs, which aggregates social media and is one of a few companies with access to all tweets since Twitter's 2006 launch. Topsy gives Apple the data to provide more detailed, personalized results to users of its voice-based search tool Siri, iTunes and App Store, and mobile advertising unit iAd, says Debra Aho Williamson of researcher EMarketer. "This could be used to glean information about what's trending around you," she says. Cook paid about $200 million for Topsy, say two people familiar with the deal.
In November, Apple paid $350 million for PrimeSense, a chipmaker that developed the motion-sensing technology used for Microsoft's Xbox Kinect controller. The company has also acquired search engine Cue, video-recommendation engine Matcha, and AlgoTrim, which works to make mobile devices more bandwidth-efficient.
Apple prefers deals that allow it to quickly absorb technology or engineers with little fanfare, says Benedict Evans, an analyst with Enders Analysis in London. When startups are bought by Apple, "they disappear," he says. "A year or two later, you can see how they're using it." Consider Siri, bought in 2010 with its eponymous company, or the iPhone 5S fingerprint reader, unveiled the year after Apple acquired print-scanning company AuthenTec.
The company bought three mapping startups (HopStop, Locationary, and Embark) in 2013 to help remedy problems with its widely panned mobile Maps software. WiFiSlam, a purchase that focuses on indoor tracking, could further bolster location mapping, as would low-power wireless chipmaker Passif Semiconductor. "None of these acquisitions that Apple does gives them new users or revenue," says Matt Murphy, a venture capitalist with Kleiner Perkins Caufield & Byers. "It augments their innovation that they do internally."
Although the nine-figure Topsy and PrimeSense acquisitions are a sign that Apple is starting to spend more, deals remain a rounding error next to Apple's $171 billion in fiscal 2013 sales. Its shares trade around $557; they were at $6 when it paid about $400 million for NeXT in 1996, the deal that brought back Jobs.
No recent Apple purchase was as eye-popping as Microsoft's $7.2 billion September deal for Nokia's mobile phone unit or even Yahoo!'s $1.1 billion May acquisition of blog platform Tumblr. Evans says Apple's biggest deals are subtle. It's committed more than $20 billion in prepayments to parts- and equipment-making companies, often helping build factories in exchange for exclusive access. In these "quasi acquisitions," Evans says, "they are getting the benefit of owning it without actually buying it."
Before it's here, it's on the Bloomberg Terminal.
LEARN MORE