A New Business Accelerator Wants to Retool Appalachia's Economy
By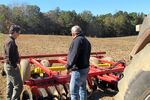 Brent Manning co-founded Riverbend Malt House in 2010 to supply local malt—the germinated grain used to make beer and whiskey—to brewers around the Southeast. Based in Asheville, N.C., Manning and co-founder Brian Simpson buy barley, wheat, and rye from farmers within 500 miles, try to use organic crops, and rake the grain by hand before drying it in their kiln. "What we're hoping to play a role in is the development of an Appalachian-style beer, something that is connected to this area," Manning says.
Riverbend Malt House is one of the stars of a new accelerator program meant to encourage sustainable businesses in Appalachia, a region of the country long dependent on coal, tobacco, logging, and other extractive industries. "Coal is being outpaced currently by the lower cost of natural gas," says Sara Day Evans, a sixth-generation Kentuckian and founder of Accelerating Appalachia. "Folks are now having to come to grips with what kind of economy can work for this place."
Evans borrowed approaches familiar to Silicon Valley startups ("lean launchpad," "customer validation," and "customer development" are among the buzzwords she uses). But instead of writing software, Accelerating Appalachia's companies are focused on such sectors as organic food and farming, sustainable forestry, and green building. She uses the catch-all label "nature-based businesses" to describe the kinds of companies she wants to nurture. While it's not the typical accelerator, she says, "I don't know what the typical accelerator is anymore."
Accelerating Appalachia hopes to attract investors to a part of the country often seen as an economic backwater. Evans says only 2 percent of venture capital is invested in Appalachia, a region that touches 12 states and is home to 25 million people—about one in every 12 Americans. "Appalachia is a very capital-challenged region," she says.
The accelerator selected 11 companies from about 100 applicants in the first half of the year to join the program, which is based in Asheville, in the western end of North Carolina near the Tennessee border. The accelerator, a nonprofit entity, is sustained by money Evans invested and raised from friends, as well as funds from economic development groups. The companies met for intensive sessions over 12 weeks to refine their business plans and meet with advisers and potential investors, culminating in a pitch day on Dec. 9.
For Riverbend Malt House, the expertise is important as the company prepares to meet increasing demand from craft breweries setting up shop in the area. Sierra Nevada, based in Chico, Calif., and two Colorado beermakers, New Belgium and Oskar Blues, are opening breweries and distribution centers within 20 miles of Riverbend.
The new breweries in Asheville will boost local demand for malt to 70 million pounds a year, seven times the current level, Manning estimates. Riverbend has just a sliver of the market, producing 100,000 pounds of malt last year. "It's a tremendous market potential," he says. The company is in talks with investors to fund expansion of the four-person operation.
By making malt locally, Riverbend can help Appalachian farmers benefit from the craft beer boom. The malt house is doubling the number of farms it buys grain from to about a dozen this year. Some are former tobacco growers, and some are in economically distressed areas. The barley Riverbend uses is planted in October and harvested in May, so it can be grown in the off-season and not disturb other crops. "We were a big piece of connecting the brewers with the agricultural economy of North Carolina," Manning says. "Without Riverbend in North Carolina, all the malt that's in this quote-unquote local beer is coming from Western Canada."