U.K. Inflation Edges Closer to BOE's 2% Target
Scott Hamilton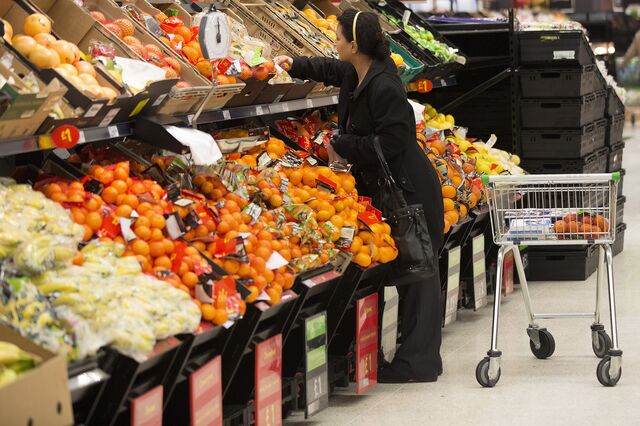 U.K. inflation unexpectedly slowed in November to the least in four years, moving closer to the Bank of England's 2 percent target.
Consumer prices rose 2.1 percent from a year earlier compared with 2.2 percent the previous month, the Office for National Statistics said today in London. The median forecast of 36 economists in a Bloomberg News survey was for a reading of 2.2 percent. A separate report showed annual producer-price inflation stayed at the lowest since October 2009.
"Today's figures should give reassurance to markets that the period of inflation being way above target is behind us," said Philip Shaw, chief economist at Investec Securities in London. "It makes it slightly easier for the MPC to communicate its policy of keeping rates low. It's not impossible that the 2 percent could be hit over the next three-to-four months."
Inflation has been above the BOE's goal every month since December 2009. The Monetary Policy Committee said last month that the outlook has improved and it expects price growth to hit the target within the next year. While wage growth remains subdued, there may be some upward pressure on prices in the coming months as electricity and gas price increases come into effect.
Vegetable Prices
From the previous month, consumer prices rose 0.1 percent in November. The decline in the annual inflation rate was partly due to fruit and vegetable prices and base effects from utility-price increases in November 2012. The first of the 2013 energy-price hikes will be captured in the December inflation data, the statistics office said.
Core annual inflation, which excludes alcohol, food, tobacco and energy prices, accelerated to 1.8 percent in November from 1.7 percent in October, the ONS said.
The pound erased an advance against the dollar after the data were released and was down 0.2 percent at $1.6264 as of 1:25 p.m. London time. The yield on the benchmark 10-year U.K. government bond was little changed at 2.88 percent.
In another report, the ONS said U.K. house prices rose an annual 5.5 percent in October. In London, prices increased 12 percent, the most since August 2010.
Retail-price inflation, a measure used in wage negotiations and as a basis for the inflation-linked bond market, stayed at 2.6 percent in November, the least since September 2012. Retail prices excluding mortgage-interest payments rose an annual 2.7 percent.
Crude Oil
In a sign that some price pressures are easing, separate data today showed input prices fell for a fourth month in November, dropping 0.7 percent from October. Compared with a year earlier, prices fell 1 percent, the first annual decline in a year. The biggest downward contribution to both the monthly and year-on-year change came from crude oil.
Factory-gate prices declined 0.2 percent in November from October. Annual producer-price inflation stayed at 0.8 percent.
"Such a profile for input and output prices suggest that underlying inflationary is extremely moderate and the inflation profile is unlikely to change much in the near future," Annalisa Piazza, an economist at Newedge Group in London wrote in a note to clients. "The Monetary Policy Committee will have no additional worries on the inflation front."
While consumer-price inflation is easing, it's still outpacing wage growth, which was an annual 0.8 percent in the third quarter. Economists see inflation slowing to an average 2.2 percent in 2014 from 2.6 percent this year, according to the median forecast in a monthly Bloomberg survey published on Dec. 13. It will also average 2.2 percent in 2015.
The BOE kept its benchmark interest rate at 0.5 percent this month and held its target for bond purchases at 375 billion pounds. Officials introduced forward guidance in August, saying they won't raise their key rate at least until unemployment falls to 7 percent.
MPC member Martin Weale, who opposed guidance on the grounds it may undermine the BOE's inflation-fighting credibility, said this month the recent drop in the rate has eased some of his concerns.
Before it's here, it's on the Bloomberg Terminal.
LEARN MORE