Budget Deal Easing $63 Billion in Cuts Advances in Senate
Heidi Przybyla and Kathleen Hunter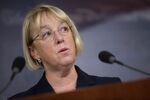 The Senate moved nearer to passing a bipartisan budget deal that would ease $63 billion in spending cuts, overcoming Republican objections and setting the stage for a final vote by tomorrow.
The Senate today voted 67-33, with 12 Republicans joining all the chamber's Democrats, to clear the way for the $1.01 trillion spending plan President Barack Obama said he will sign into law.
The measure crafted by Senator Patty Murray, a Washington Democrat, and Representative Paul Ryan, a Wisconsin Republican, doesn't include tax increases Republicans oppose or entitlement-program changes that Democrats resist. It also doesn't raise the U.S. borrowing limit, setting up another potential fiscal clash after February.
"Instead of trying to solve everything at once we decided the most important thing we could do for the families we represent was to end the uncertainty," Murray, the Senate Budget Committee chairman, said on the floor today before the vote. "We weren't going to try to tackle the larger challenges. We looked for ways we could compromise."
The budget deal sets U.S. discretionary spending for this fiscal year higher than the $967 billion required in a 2011 budget plan, drawing opposition from most Republicans. The plan raises fees including for airline passengers, and is projected to reduce the budget deficit by $23 billion over 10 years.
The House passed the budget measure 332-94 on Dec. 12.
'Easy Choices'
The measure's main accomplishment is easing $63 billion in automatic spending cuts over two years and putting in place a formal budget.
It's still unclear whether the agreement will lead to a broader tax-and-spending deal to address the nation's $17 trillion debt or is a limited compromise of convenience.
"With this agreement, Congress has exhausted nearly all of the easy choices available," former Republican Senator Alan Simpson of Wyoming and former President Bill Clinton's chief of staff, Erskine Bowles, a Democrat, wrote in a Dec. 13 opinion article in the Los Angeles Times.
"That leaves only tough choices for future deficit reduction or sequester replacement," wrote the two co-chairmen of Obama's 2010 deficit-reduction commission.
Many Republicans are balking because the accord pushes savings into future years and includes user fees that small-government groups are labeling a tax increase.
'Spending Problem'
"Nearly all of the meager spending cuts come way down the road, in 2022 and 2023," Iowa Senator Charles Grassley said in a statement today. "This budget deal emphasizes that Congress has a spending problem."
The budget plan doesn't extend unemployment insurance for the chronically jobless, a fight Democrats will pick up when Congress returns next month after the holiday break. It also doesn't continue more than 50 tax breaks that will lapse on Dec. 31 including the research and development tax credit used by companies such as Intel Corp.
The agreement could prevent another government shutdown, said House Appropriations Committee Chairman Hal Rogers. It's a "huge event that breaks the logjam on getting away from these herky-jerky shutdowns that we've been going through now for all these months and years," Rogers, a Kentucky Republican, said in a Dec. 15 interview on C-Span's "Newsmakers" program.
Spending Levels
After adopting the budget, lawmakers must take another step to avoid a shutdown. Congress will have less than two weeks to pass legislation assigning spending levels to specific agencies. Current funds for government operations expire Jan. 15.
With 2014 primary opponents waiting in the wings, some Republican lawmakers found it difficult to support even such a limited budget deal.
"Anyone up in 2014 is as nervous as a Christmas goose and they'll probably vote against it," said Ross Baker, a congressional expert at Rutgers University in New Brunswick, New Jersey. "Given the risks involved, none of them wants to gratuitously antagonize the conservative Republican base."
Tennessee Senator Lamar Alexander is the lone Republican facing a significant primary challenge to his re-election next year who backed advancing the plan. Alexander and Collins of Maine are the only Senate Republicans running for re-election in 2014 who voted in favor of advancing the measure.
Appropriations Panel
Though Collins said she planned to vote for final passage of the plan, Alexander told reporters following today's vote that he'd vote no.
"Surely we can at least allow a vote on a Paul Ryan proposal that is supported 2-1 by House Republicans," Alexander told reporters. "How can we govern if we can't do that?"
Collins and Alexander both serve on the Senate Appropriations Committee, which would have more funding to work with in the plan. Three other Republicans on committee -- Roy Blunt of Missouri, John Hoeven of North Dakota and Lisa Murkowski of Alaska -- voted to advance the bill.
Senate Republican leader Mitch McConnell's primary opponent in Kentucky, Matt Bevin, has been sending out daily news releases needling McConnell, who has been quiet about the deal since it was announced last week. McConnell voted against advancing the measure.
"Where's Mitch?" yesterday's e-mail was headlined.
McConnell's Opposition
McConnell, a primary architect of the 2011 Budget Control Act, has long opposed spending in excess of that law's limits.
"I remain convinced that the Budget Control Act has done what it was supposed to do," McConnell told reporters Dec. 10. "We've reduced government spending for two years in a row for the first time since right after the Korean War. Many of us came to Congress to do just that."
Senator Thad Cochran, a Mississippi Republican, received similar treatment to McConnell in a dispatch yesterday from primary challenger Chris McDaniel. He voted no today.
"Mississippi taxpayers deserve to know if Senator Cochran will support this disastrous bill or if he will have the courage to vote against it," McDaniel said.
Democrats were unified in their support of the budget deal, including those running in tight contests in 2014, viewing it as a step in the right direction on ending fiscal divisiveness in Washington.
"This is a very important step forward showing that we can compromise," said Maryland Senator Ben Cardin, a Democrat.
Before it's here, it's on the Bloomberg Terminal.
LEARN MORE