Is North Korea Unwinding Economic Ties With China?
Christina Larson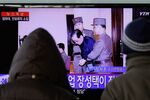 These are grim days not only for the friends and family of recently executed North Korean official Jang Song Thaek, but for people and programs he had supported. That includes economic relations with China, which Jang had overseen.
Last week, North Korean state media reported that Kim Jong Un's uncle was executed as a traitor, describing him thus: "Despicable human scum Jang, who was worse than a dog, perpetrated thrice-cursed acts of treachery in betrayal of such profound trust and warmest paternal love shown by the party and the leader for him."
Bruce Klingner, former head of the U.S. Central Intelligence Agency's Korea desk, distilled the meaning of that rant for Bloomberg News. "Kim Jong Un is saying he is in power," says Klingner. "He has taken power politics to an even higher and more brutal level than what his father and his grandfather did."
This week, North Korean business people living and working in the northern Chinese cities of Dandong and Shenyang are being recalled to Pyongyang, according to the South Korean news agency Yonhap. It's not clear what will happen next, but the fallout from the leadership purge in Pyongyang seems likely a setback to Jang's reported strategy of encouraging Chinese investment in North Korea and increasing trade between the two countries.
China's leadership "had previously considered Jang Song Thaek to be as close as anyone to China," Richard Armitage, former U.S. deputy secretary of state, told Bloomberg News. Now he's gone, and his former allies and associates may soon be in the crosshairs.
Before it's here, it's on the Bloomberg Terminal.
LEARN MORE