Kiev Protesters Ache for Leader as Opposition Stumbles
Daryna Krasnolutska, Ott Ummelas and Kateryna Choursina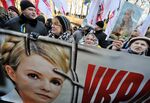 Ukraine's protesters are still looking for a leader.
Four weeks into a wave of demonstrations against President Viktor Yanukovych, the activists streaming into Kiev's Independence Square yearn for a figurehead who can channel their anger. With ex-premier Yulia Tymoshenko, a leader of the 2004 Orange Revolution, languishing in jail, protesters are having to make do with an uneasy three-way coalition of politicians.
"The leaders are just window dressing," Kateryna Ivanyshin, 23, a psychology therapist from Kiev, who's been protesting on Independence Square every day since Nov. 21, said during yesterday's rally. "They are like a three-headed dragon, with the three heads not being able to decide what to do."
The protesters, who turned out by the hundreds of thousands yesterday, want a leader to resume talks for a European Union integration pact and force snap elections. What they've got is a heavyweight boxing champion, a nationalist politician and an ex-central bank governor.
Vitali Klitschko, Arseniy Yatsenyuk and Oleh Tyahnybok agree on little beyond wanting to topple the regime. That ideological and personal discord promises to make working together tricky even if they succeed in that goal, according to Arkady Moshes of the Finnish Institute of International Affairs.
Internal Differences
"They're all anti-Yanukovych, but their internal differences run so deep that I wouldn't bet on them being able to consolidate even during elections," he said in a telephone interview from Helsinki.
The political crisis gripping Ukraine, a key transit route for Russian gas, threatens to worsen a fiscal crisis and prolong a third recession since 2008. With foreign-currency reserves at a seven-year low, the government is in talks with Russia and the EU in search of assistance.
Yanukovych travels to Moscow tomorrow to meet with President Vladimir Putin. Ukraine is in talks with Russia for a loan of as much as $15 billion, according to two people familiar with the negotiations.
One of the sticking points in the negotiations with the 28-nation bloc is Tymoshenko's imprisonment, which the EU deems selective justice. Even while locked up, the former premier is part of the protests. Her picture, visible around Independence Square, looks down on the thousands of demonstrators from a Christmas-tree shaped metal structure.
'Don't Forget'
"Don't forget about Tymoshenko! She can lead an opposition," said Serhiy, a 46-year-old former shop owner from the Black Sea city of Odessa, who declined to give his last name during the protest Dec. 14. In addition to her experience, the ex-premier "is suffering, which is an important psychological point," he said.
The opposition troika is struggling to rattle Yanukovych, who's granted few concessions. Before the protests kicked off on Nov. 21, the president was the country's most popular politician with 17 percent support, ahead of Klitschko's 16 percent, according to the Kiev Institute of Sociology.
Yatsenyuk was at 8 percent and Tyahnybok at 4 percent, the Nov. 9-20 of 2,011 eligible voters showed. The margin of error was 2.8 percentage points.
Not only do the parties lack unity, their grip on the protests is also tenuous at best. While they have a presence at the rallies, with tents and activists displaying their colors, much of the movement ticks along on its own.
By the time Yatsenyuk's Batkivshchyna party, Klitschko's Udar and Tyahnybok's Svoboda started mobilizing supporters for last weekend's rally, thousands had already signed up online.
'Second Fiddle'
The lack of unity and common purpose could spell trouble for the future of demonstrations, according to Otilia Dhand, an analyst at political risk evaluator Teneo Intelligence. The parties and their leaders would have a "crucial" role in keeping momentum and negotiating with the government, she said.
This "is a civil-society led protest and politicians effectively play second fiddle," Dhand said by e-mail. "They represent a movement, rather than lead it."
Those limitations were on display Dec. 13, the first time the government sat down to negotiate with them. Yanukovych and Prime Minister Mykola Azarov focused on the economic costs of the demonstrations and a potential EU deal, the opposition unable to turn the discussion to their key demands.
Both sides left frustrated, with Klitschko saying the talks yielded nothing. Yatsenyuk told the meeting's participants that it had been the "last chance" to resolve the crisis peacefully, while Tyahnybok warned that protesters would respond if the police uses truncheons against them.
Presidential Bid
Unlike in 2004, when the opposition including Tymoshenko united behind the presidential candidacy of Viktor Yushchenko, the three leaders are often competing against each other. They are trying to position themselves to be the main challenger to Yanukovych in the 2015 presidential election, according to Ryhor Nizhnikau, a fellow at the Centre for EU-Russia Studies at the University of Tartu in Estonia.
"There's still uncertainty about who will be running and who will be the exact leader," Nizhnikau said by phone. "They are working on their ratings. These political forces today can't mobilize people, this is their main problem."
That contrasts with the 2004 Orange Revolution, when a rigged election gave the protesters the clear and attainable goal of scrapping the result and holding a new vote, said Moshes in Helsinki. This year, social discontent caused by the shrinking economy and anger over the "predatory oligarchic life" of the country's elite is fueling the protests, instead of a single common cause, he said.
'More Pain'
Even if the opposition unites behind a candidate in order to defeat Yanukovych in 2015, the country will need a leader to guide the nation split over its future out of what might be its worst crisis since independence from the Soviet Union in 1991.
"The Ukrainian economy is in really, really bad shape," Fredrik Erixon, director of the European Centre for International Political Economy in Brussels, said in a phone interview. "Speedy reforms are needed but there's still going to be more pain in the next few years no matter what government is in charge."
Running the country also proved to be the undoing of the leaders who steered the Orange Revolution in 2004. After feuding with Tymoshenko, Yushchenko garnered 5.5 percent of the vote in the 2010 presidential election. Tymoshenko was the runner-up with 45.5 percent, falling about a million votes short of defeating Yanukovych.
The following year, she was convicted for abuse of office when signing a gas deal with Russia, which prosecutors say was damaging for Ukraine.
The prison sentence took her out of the game, which may have been the intention of authorities, who "knew what they were doing from the start," said Viktor Bodnarchuk, who's been at Independence Square since Nov. 30.
"We don't have a leader," said Bodnarchuk, 33, a courier at a law firm in Vinnitsya, about 250 kilometers (155 miles) southwest of Kiev. "Well, there are leaders, but they don't have charisma. We need her strong spirit, her words."
Before it's here, it's on the Bloomberg Terminal.
LEARN MORE