Crazy Cart: A Holiday Hit Nine Years in the Making
By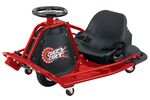 In October, Ali Kermani climbed behind the wheel of an electric go-kart and careened around Razor USA's Cerritos (Calif.) warehouse, using a hand lever to engage swiveling caster wheels and make the car drift through turns. (If you're not a gearhead or a fan of the Fast and the Furious franchise, you can see what "drifting" means here.) A week after posting a clip of the performance to YouTube, the video had been viewed 1 million times. Today the Crazy Cart, as Kermani calls his invention, is one of the hottest toys of the holiday shopping season.
The Crazy Cart's success is a story of persistence. Kermani, 34, became enamored of the idea in 2004 while working on the product development team at Razor, the company best known for its folding scooters. A prototype was fun to ride, but Razor thought it would be hard to market, because drifting hadn't entered the popular vernacular. Convinced that kids would love the toy, Kermani bought the idea from Razor and funded its development with savings and grants. By 2009, he'd improved the design and persuaded Razor to license Crazy Cart from him for a cut of the sales.
This summer Crazy Cart finally hit store shelves, retailing exclusively at Toys "R" Us for $399. Carlton Calvin, Razor's chief executive, says strong sales early on persuaded the toy seller to increase its order from 15,000 to 30,000 units. Toys "R" Us spokeswoman Adrienne O'Hara says the company expects to "sell every piece we have" during the holiday season.
Kermani first met Calvin in 1997 at a skate park in Glendora, Calif. Kermani was a high school dropout selling skateboard equipment out of the back of his car. Calvin was trying to record video of young skateboarders and turned to Kermani for advice. They became friends, and when Calvin launched Razor in 2000, he hired Kermani to help market the company's scooters. Calvin encouraged Kermani to go to college and, eventually, business school.
Kermani, the skate park rat, wasn't exactly a natural fit in B-school. He recalls a recruiter from UCLA's Anderson School of Management becoming incensed when he mentioned he hoped to use his time there to develop the Crazy Cart. "It was like something from a movie," he says. "She stood up and slammed her hand on the table. 'If you think you're coming to UCLA Anderson with a go-kart and being successful, then you have no idea what you're in for.' I told her, 'If you think your opinion of my chances of being successful is going to stop my idea from being a success, you have no idea who you're sitting across the table from.'"
End scene. Kermani got wait-listed and made it in. His go-cart idea placed second in a business plan competition, landing Kermani and his student partners $7,000. The university awarded him another $20,000 in grants to develop the project over the summer between his first and second year and connected him with a pair of ace engineering students. At the urging of faculty advisers, Kermani bought the rights to the idea for the drifting go-kart from Razor for $1 and filed for patents.
By the time Razor licensed the Crazy Cart back from Kermani, it was a better machine than it had been in 2004. Intended for ages 9 and up, the electric-powered go-kart tops out at 12 miles per hour, and its battery gets 40 minutes of continuous, full-throttle use. Persuading retailers to take a risk promoting the $400 toy was still a challenge, until Kermani slipped a Toys "R" Us executive a phone with a Crazy Cart video.
Shortly after, Kermani had a deal with the toy seller and an idea of how to build attention for the Crazy Cart. The YouTube videos led to print media. Soon Crazy Cart fans were uploading their own clips. Toys "R" Us touted the go-kart as one of the hottest 15 toys for the holiday season. Calvin says that Crazy Cart could account for a third of his company's sales next year and that Kermani's YouTube campaign provides a blueprint for other toymakers. "To me, that's the revolution," says Calvin. "You can make innovative toys now, and you have a way to communicate about them."
Before it's here, it's on the Bloomberg Terminal.
LEARN MORE