Ukraine Riots Flash Buy Signal to Foreigners for Bonds
Maria Levitov, Andras Gergely and Krystof Chamonikolas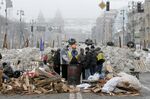 As Ukrainians took to the streets of Kiev on Nov. 22 to protest a government decision to break off European Union trade talks, foreign investors piled into local-currency bonds. As protests raged on, they kept buying.
Non-resident investors boosted their holdings of hryvnia sovereign debt by 55 percent within 24 hours on Nov. 22 to 6.73 billion hryvnia ($812 million), as the government faced a backlash for deciding to focus on ties with Russia. Foreign holdings of Ukrainian debt then jumped to 9.37 billion hryvnia yesterday, the most since April 2011, data on the central bank's website show. The nation's 2014 dollar notes gained today on speculation the country will sign a trade deal with Russia.
Investors are betting President Viktor Yanukovych will get enough foreign aid to stem a plunge in foreign reserves and meet almost $17 billion of debt payments through 2015. Ukraine's foreign notes recovered after Prime Minister Mykola Azarov said he would travel to Moscow on Dec. 17 to finalize an agreement to "restore trade links" between the former Soviet republics.
"There are some investors seeing this as an opportunity to buy Ukraine debt as it is cheap, and obviously they are confident that the government won't default," Thu Lan Nguyen, a Frankfurt-based FX strategist at Commerzbank AG, said by e-mail yesterday. "There is only a marginal risk that the government will be unable to seek at least one international backer."
Russian Influence
Ukraine, an energy transit route between Russia and the EU, is seeking financial aid as its economy struggles to exit a third recession since 2008 and its foreign reserves languish at a seven-year low. Russia is seeking to retain influence over the former Soviet republic, while protesters in Kiev demand their country embark on a more western course.
The government sold hryvnia notes due in 2020 at a yield 14.3 percent on Dec. 10, compared with 13.9 percent on seven-year debt in Egypt, which like Ukraine holds Moody's Investors Service's fifth-lowest credit rating.
While foreigners were pouring into local debt, Ukraine's dollar-denominated securities faced the biggest selloff in emerging markets outside of Latin America, losing 2.5 percent this month through yesterday, according to a Bloomberg portfolio analysis of bond returns.
The sovereign's dollar notes due next June gained 1.3 percent, the most since Oct. 15 on a closing basis, by 5:12 p.m. in Kiev, as money came back in. They've risen 2.1 percent in the past four days, driving the yield down to 16.51 percent, the lowest since Nov. 28.
External Help
Yanukovych said this week he will restart bailout talks with the International Monetary Fund and is still interested in signing a trade pact with the EU.
The 28-member bloc would make money available if Ukraine signs a free-trade pact and taps the IMF to aid its shrinking economy, EU Enlargement Commissioner Stefan Fule said yesterday. The U.S. said this week it was considering imposing sanctions following an attempt by riot police to clear thousands of anti-government activists off the streets of Kiev.
"What is cause for confidence is that both the EU and U.S., and the Russians want the Ukrainians on their side," Viktor Szabo, who helps manage $10 billion in emerging-market assets at Aberdeen Asset Management in London, said by e-mail yesterday. "It is only a matter of a taking a political decision to get external help."
Five-year credit default swaps, contracts insuring Ukrainian debt against non-payment, declined 41 basis points today to 1,045 basis points, according to data provider CMA, the third-highest in the world after Argentina and Venezuela.
Currency Risks
Reserves dropped 9 percent last month to $18.8 billion and are down 51 percent since mid-2011. The risks of default "are being underestimated," Standard Bank Group Ltd. said last week.
The nation's reserves can dwindle quickly if citizens start to convert more of their savings into foreign currency, Ivan Tchakarov, a Moscow-based economist at Citigroup Inc., wrote in a research report yesterday. The dollar-linked hryvnia weakened 1.3 percent in the past three days to 8.2825.
"Still restrained demand for foreign currency has so far remained the principal saving grace for Ukraine," he said. "However, fickle retail demand for FX may turn around fast."
Franklin Resources Inc.'s biggest funds ramped up their bet on Ukraine by more than $1.4 billion in the third quarter, adding to the asset manager's status as the country's largest international bondholder, weeks before street protests. Landesbank Berlin Investment GmbH said last week it was buying 2014 bonds of NAK Naftogaz Ukrainy, while Otkritie Asset Management's Dmitry Kosmodemiyanskiy recommended the notes, which yielded 21 percent today.
Bond funds dedicated to Ukraine registered a net inflow of $10 million this month through Dec. 9, following outflows exceeding $100 million in October and November, according to EPFR Global data. The yield on the country's 2023 securities fell seven basis points today to 10.19 percent.
(Corrects name of Otkritie unit in paragraph 16 of story published Dec. 13.)
Before it's here, it's on the Bloomberg Terminal.
LEARN MORE