U.S. Law Restricting Foreign Ships Leads to Higher Gas Prices
An unkillable law restricting foreign vessels leads to higher gas prices
By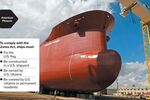 When large container ships filled with bicycles and sleeper sofas leave China for the U.S., they don't stop in Hawaii to unload cargo bound for that state before continuing to Los Angeles or Seattle. Under a 93-year-old U.S. law, the Jones Act, only U.S.-made, U.S.-flagged ships can deliver goods between U.S. ports. If a Chinese ship stopped in Hawaii to drop-off cargo, and then picked up, say, a load of Hawaiian coffee, it could not unload that coffee in another U.S. port. Chinese-made goods to be sold in Hawaii are routinely unloaded on the West Coast, and then loaded back onto another U.S. ship for the 2,500 mile trip back to the island state.
Passed in 1920 by isolationist lawmakers, the act was meant to protect the nation's shipping industry from foreign competition and ensure the U.S. maintained a strong naval presence. For most of its existence it went largely unnoticed, and outside of wasting a lot of fuel and making products in Hawaii needlessly expensive, its impact on the broader U.S. economy was muted.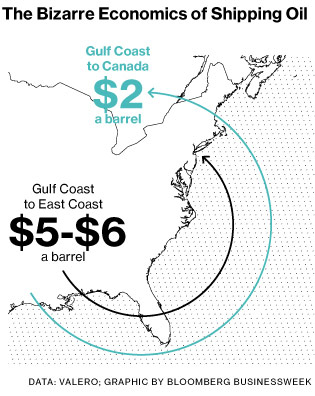 That's no longer true, as U.S. energy companies get squeezed by the act as they try to deliver record amounts of oil nationwide. By yearend the U.S. will produce about 8 million barrels of oil per day, up from an average of 6.5 million in 2012. Yet there are just 32 tankers and 42 barges eligible under the Jones Act to haul fuel along the U.S. Gulf Coast and East Coast, according to MJLF & Associates, a shipping brokerage in Connecticut. The fleet hasn't grown much in decades—before the oil boom there was less demand for the ships. And since foreign-made vessels can't make up the shortfall, shipping rates have soared.
Poten & Partners, a New York-based maritime consulting firm, estimates the average amount it costs to charter a Jones Act tanker is up 87 percent over the past year and a half, to a record of more than $85,000 a day. One such ship, the 616-foot American Phoenix, which can carry 339,000 barrels of oil, costs more than $100,000 a day. In 2012 a Koch Industries subsidiary leased it for a year at $50,000 a day. After renewing in June for another year, Koch then leased the ship to ExxonMobil for about double the rate it pays the ship's owner. "I'm still kicking myself," says Nickel van Reesema of Mid Ocean Marine, which owns 20 percent of the Phoenix.
Higher shipping costs contribute to higher gas prices in some parts of the country. In a November presentation to investors, Valero Energy, the largest refiner in the U.S., reported it costs $5 to $6 to ship a barrel of oil from the U.S. Gulf Coast to a refiner on the East Coast. It costs $2 to send that same barrel to Canada, since it can travel on a foreign ship at a much lower rate. "The Jones Act is nothing more than a giant tax on the U.S. consumer," says Fadel Gheit, an energy analyst at Oppenheimer. "I can take a barrel of gasoline across the Atlantic for one-third the cost of shipping it to New York from Houston."
Nationwide, there are 16 large oceangoing vessels on order with U.S. shipbuilders to meet the increased demand, plus hundreds of smaller ones, according to the American Maritime Partnership. But many won't be ready for a couple of years. And they're superexpensive. In November, Matson, which controls most of the shipping between Hawaii and the U.S. mainland, ordered two 850-foot ships—to be delivered in late 2018—from Aker Philadelphia Shipyard. Price: $209 million each. That's about five times what it would cost to build them in Asia, according to Drewry Maritime Research, a U.K.-based consulting firm, which calls the Jones Act an "increasingly expensive luxury."
Railroads have been among the biggest beneficiaries of the restrictions. Tanker rail cars haul more crude now than at any time since the days of John D. Rockefeller's Standard Oil. Trains moved 93,312 carloads of crude oil in the third quarter of 2013, according to the Association of American Railroads. That's 44 percent more than the same period a year ago and nearly 900 percent more than trains hauled in all of 2008.
Despite the complications the Jones Act creates, it's fiercely guarded by the powerful labor unions, shipbuilders, and defense contractors that benefit from it. Without the act, many U.S. shipyards would have a hard time staying in business, unable to compete with cheap foreign labor. Even the cash-rich oil industry has been unsuccessful trying to persuade Congress to dial it back. As a member of President Gerald Ford's Council of Economic Advisers, Paul MacAvoy helped begin deregulating most of the U.S. transportation industry, including airlines, trucking, and railroads. "We couldn't get close to touching the shipping industry," he says. "All you had to do was say 'Jones Act' in a crowded room and you'd get 100 die-hard supporters popping up."
One member of Congress did try to rally support for a tweak to the law. After winning a special House election in May 2010, Republican Representative Charles Djou of Hawaii proposed an exemption to allow some foreign vessels to carry cargo between the U.S. and Hawaii. Djou couldn't muster support for the bill. "It went nowhere," he says. After less than six months in Washington, Djou lost his reelection bid to Colleen Hanabusa, a Democrat who enthusiastically supports the Jones Act.
BOTTOM LINE -
The bottom line: New U.S.-made ships that comply with the 93-year-old Jones Act cost five times more than they would if built in Asia.
Before it's here, it's on the Bloomberg Terminal.
LEARN MORE