Steelcase's Turnstone Buoy, an Office Chair for the Restless
A chair for those who can't sit still
Kurt Soller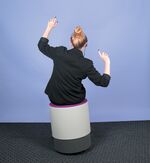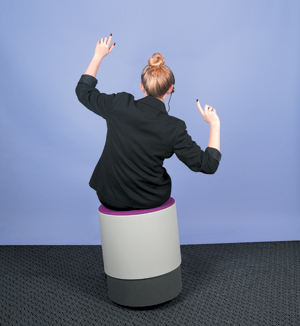 All week I've been sitting on a desk chair that looks, as one colleague put it, like "an upholstered trash can." It's no wonder that, at first, I felt like garbage: My back tingled, my ankle blistered, and my productivity was shot—I couldn't stay still longer than five minutes.
But that's the point. Steelcase's Turnstone Buoy, "designed for today's movers and shakers," is an industrial engineer's solution for toe-tapping, fidgeting millennials who want the supposed posture-improving, core-strengthening benefits of a giant rubber fitness ball but don't want to look like a huge nerd. The Buoy is flat on top and comes in six colors, with 25 choices of punchy fabric cushions, including three legitimately stylish Paul Smith macroplaids. The bottom is slightly domed, which constantly destabilizes the seat, making it look like a lobster trap bobbing off the coast of Maine and forcing the sitter to crunch his muscles or jostle his feet to avoid Excel-induced seasickness.
The continuous motion of the Buoy seems to follow the same sitting-equals-death logic that drives the sales of standing desks. "There's this school of thought that the best posture is the next posture," says ergonomist Sacha Burn of Humanscale Consulting, who adds that the Buoy is beneficial to a point. "Movement is good for the body, sure, but muscles also need a rest. So I'm not surprised you're feeling uncomfortable."
On Steelcase's website, Chicago producer Sonia Yoon says her lime-green Buoy made her "more energetic at the end of the day" and "engaged her body" as she spun around. At $179, there's obvious sticker appeal for startups that rely on constant collaboration and supercreativity. Steelcase says it introduced the Turnstone brand to target "small and emerging businesses."
For a more corporate environment in which employees might be tethered to their desks for hours, or even days, at a time, the Buoy is best in limited doses. Burn suggests sitting on it while eating lunch or when feeling restless in the afternoon. So far, it's working better than a trip to the vending machine.
Before it's here, it's on the Bloomberg Terminal.
LEARN MORE