Putin Says Russia's Economic Slowdown Caused by Domestic Factors
Stepan Kravchenko and Henry Meyer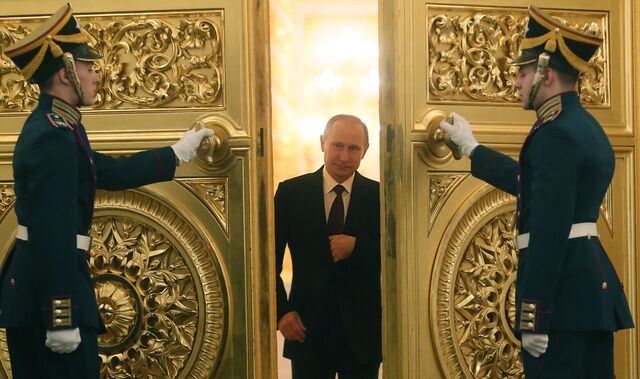 Russian President Vladimir Putin said that his country's economic slowdown is being caused by domestic reasons rather than a spillover from a global downturn.
"Of course we are experiencing the consequences of the global crisis, but we have to say openly: the main reasons for the slowdown aren't external but domestic," Putin said today in Moscow in his annual state of the nation speech.
Russia, the world's ninth-largest economy in dollar terms last year according to the World Bank, needs to "rapidly" improve labor productivity, which is two to three times below that of advanced economies, Putin told both chambers of parliament in the Kremlin.
The investment-led growth model laid out by Putin after he took office for a third term last year hasn't materialized, with weaker domestic demand hurting corporate profits and inflation set to exceed the central bank's target range for a second straight year. The Economy Ministry this month cut its growth forecast for 2013 to 1.5 percent and may revise its target for next year to 2.5 percent.
Gross domestic product expanded 1.2 percent from a year earlier in the third quarter, the weakest rate since 2009, when the $2 trillion economy contracted along with most of the world. GDP growth decelerated or remained unchanged every quarter since Putin won a third Kremlin term in March 2012, with senior officials including Prime Minister Dmitry Medvedev warning Russia's export-driven economic model has neared exhaustion.
GDP will probably grow at an average pace of 2.5 percent until 2030, Economy Minister Alexei Ulyukayev said last month.
The government must ensure "stable economic growth" to meet social needs, Putin said.
Before it's here, it's on the Bloomberg Terminal.
LEARN MORE