Nanobiosym's Gene-Radar Diagnoses Diseases Faster
An iPad-size device can cheaply diagnose diseases, including certain types of cancer
By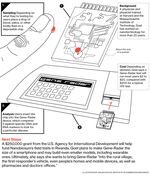 Innovator: Anita Goel  
Age: 40  
Title: Founder, chairman, and chief executive officer of Nanobiosym in Cambridge, Mass.
Form and function: An iPad-size device that takes less than an hour to diagnose diseases with genetic footprints, including HIV, malaria, tuberculosis, and some types of cancer. It's a substitute for costlier lab diagnostics that take weeks or months to complete.