Hilton Pays Out Huge for Its Private Equity Owner
by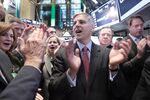 Hilton turned into a winning lottery ticket for its private equity owner, raising a record $2.35 billion for the hotel chain. Hilton Worldwide Holdings sold 117.6 million shares for $20 each on Wednesday evening and saw an eager reception today from investors for an initial public offering that surpassed the much-discussed Twitter launch of last month.
Blackstone Group, which bought the company in October 2007, booked a paper profit of $8.5 billion from the IPO, based on the $6.5 billion that the firm and its partners have invested in Hilton, as Bloomberg News reported. That makes the Hilton investment the second-best returning play for a private equity firm, surpassed only by the $10.1 billion that Apollo Global Management booked last year from its sale of LyondellBasell Industries, according to Bloomberg data. At $22 per share, Hilton would become the top-returning private equity investment.
Blackstone did not sell in the IPO and retains a 76 percent stake in the McLean (Va.) chain, which operates lodging brands such as DoubleTree, Hampton Inns, and Homewood Suites. In 2009, by comparison, Hyatt Hotels raised $1.1 billion in its IPO.
Hilton shares gained more than 8 percent in their first hours of trading today, to $21.70, giving the chain a market value of $21.3 billion. That's higher than industry rivals Marriott International, Starwood Hotels & Resorts, Hyatt Hotels, Choice Hotels International, Accor, and Wyndham Worldwide. "Hilton seems to be in a very good position relative to those other guys, because they run various properties in all the brand segments," says Ryan Meliker, a senior analyst at investment bank MLV & Co.
Hilton also benefits more than some of its rivals during the current upswing in the hotel cycle—with rising occupancies and room rates—by owning and leasing relatively more rooms than other chains. Much of the lodging industry has migrated to an "asset-light" strategy in recent years, in which a hotel company such as Marriott or Starwood will sell off their real estate to license their brands and manage the hotels. That helps to offload the enormous capital expenses that come with property ownership and insulates a hotel chain from the industry's inevitable economic downturns.
The main drawback to this strategy, however, is the relative modest income it generates, Meliker says. While a hotel chain that merely manages a room might realize 5¢ to 6¢ of each $1 in revenue, a property owner like Hilton probably collects about 50¢, he estimates. Of course, Meliker notes, being a landlord "also means that in the downturn you get hit a lot harder."
Before it's here, it's on the Bloomberg Terminal.
LEARN MORE