Why Bitcoin Needs Banks
The virtual currency can't spread without conventional connections
By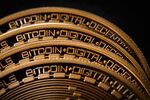 On a mission to convince the world that Bitcoin is enduring and serious, enthusiasts convened at a place that symbolizes the ephemeral and the glitzy: Las Vegas. At the Inside Bitcoins conference on Dec. 10 and 11—sponsored by BubbleCoin, BitDeliver, CoinComply, and other companies—the top issue for many attendees was how to persuade regulators that the digital money and payment system is a valuable financial market innovation, rather than the currency of choice for illicit gambling and drug purchases. Banks shun Bitcoin companies "because it's scary," says Jered Kenna, founder of Tradehill, a Bitcoin exchange that shut down this summer after its bank closed its account. "If the banks aren't sure, they default to 'no.' "
Introduced in 2008 by a person or group using the name Satoshi Nakamoto, Bitcoin is the most prominent of a group of virtual currencies—money that exists mainly as computer code—that have no central issuing authority. Bitcoins are stored in electronic wallets, which are identified only by a string of letters and numbers, and can be traded on online exchanges and converted to cash. They are created by computers that solve difficult cryptographic problems. As more coins are created, the problems get tougher. The system is designed to produce no more than 21 million Bitcoins. About 12 million exist.
Today, despite its ambiguous status, Bitcoin can be used to pay for T-shirts, food, and electronics. A Manhattan psychiatrist has been accepting Bitcoin as payment since 2012. His website features a "Bitcoin accepted here" sticker. This year through Dec. 10, the currency, which can swing wildly, has gained more than 7,000 percent, to $990, according to the CoinDesk Bitcoin Price Index, which monitors prices on major exchanges.

As its popularity grows, Bitcoin is attracting increasing scrutiny from regulators. Prices jumped in November after a U.S. Department of Justice official described the currency as "a legal means of exchange" at a Senate hearing. Still, another regulator at the same hearing warned that Bitcoin-related businesses would need to meet current money laundering standards before banks would agree to work with them. On Dec. 5, China's central bank barred financial institutions from buying and selling the virtual currency and from pricing products in Bitcoin, sending prices tumbling more than 10 percent. After the bank's announcement, Baidu, China's biggest search engine, stopped accepting Bitcoin.
Benjamin Lawsky, the superintendent of New York's Department of Financial Services, subpoenaed 22 Bitcoin-related companies this summer to determine whether new regulations are needed to cover them. "Virtual currencies may turn out to be a very big thing," he said in October. "Right now, it feels as if the major advantage they're providing is anonymity," which appeals to "money launderers" and "terrorists."
Regulators have already pressured banks to close some Bitcoin-related accounts. In August, Internet Archive Federal Credit Union dumped Bitcoin-related clients—including Tradehill—for what it called "regulatory issues." U.S. officials shut an account at Wells Fargo used by Mt. Gox, a Japan-based exchange, to service U.S. customers. A Wells Fargo spokesman declined to comment.
Banks are reacting to Bitcoin the way most people do to any new type of payment, according to Mary Dent, a former vice president at Silicon Valley Bank. "If you heard about somebody getting mugged for the first time, you'd think cash is crazy," says Dent, who now runs her own consulting firm. "If you heard about credit card fraud for the first time, you'd think cards are crazy. Bitcoin is suffering from that."
At the Las Vegas conference, three companies announced the creation of a Bitcoin trade group to "protect the rights of developers, entrepreneurs, and users" called the Consortium of Decentralized Applications (CoDA).
Other companies have hired lawyers and former regulators to make their case to government agencies and demonstrate to potential banking partners that they take regulators seriously. In October, Jeremy Allaire founded Circle Internet Financial, which will develop virtual currency payment systems, with a $9 million investment from Accel Partners and General Catalyst Partners—the biggest venture capital investment yet for a Bitcoin company. One of Allaire's first moves was to hire John Beccia, former chief regulatory counsel for the Financial Services Roundtable, a lobbying group that represents major financial institutions, including JPMorgan Chase and Bank of America, and the dominant payment networks, Visa and MasterCard International. Circle also put Raj Date, former deputy director of the Consumer Financial Protection Bureau, on its board.
The financial-services establishment remains skeptical. Richard Riese, senior vice president of the American Bankers Association, said the ability to handle Bitcoin transactions "is not high on our members' list" of priorities. Kenna, the head of Bitcoin exchange Tradehill, emphasized that "for the foreseeable future" the industry would rely on banks and need to respond to their concerns. "And the foreseeable future could be 50 years."