Ukraine Protesters Reclaim City Center After Police Raids
Henry Meyer, Ilya Arkhipov and Daryna Krasnolutska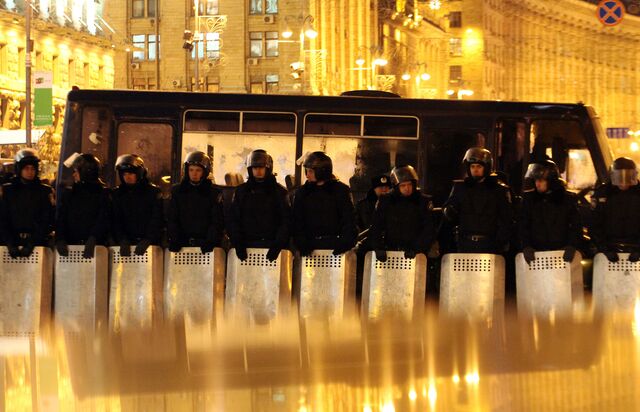 Ukrainian activists reclaimed the center of anti-government protests in central Kiev as U.S. and European officials condemned an overnight police raid that left dozens injured and arrested.
Police withdrew from the area around Independence Square today as crowds of protesters rebuilt barricades and tents torn down by security forces last night. Clashes during the raid and a standoff at City Hall, seized by demonstrators 10 days ago, sent 30 people to seek medical aid and fifteen to hospital, including nine policemen, the Kiev government said in an e-mailed statement.
Ukraine's biggest protests in nearly a decade started Nov. 21, when President Viktor Yanukovych snubbed a European integration pact. Tensions escalated after clashes with riot police during an earlier attempt to clear a protest encampment. U.S. and European Union officials have condemned the crackdown against demonstrators, who've blockaded the downtown square in snow and freezing temperatures.
"I made it absolutely clear that what happened last night is absolutely inadmissible in security terms in a democratic state," U.S. Assistant Secretary of State Victoria Nuland said after a visit to the square and a meeting with Yanukovych. "It is still possible to save Ukraine's European future and that's what we want to see the President lead. That is going to require immediate security steps and getting back into a conversation with Europe and the IMF."
Bond Yield
The yield of Ukraine's dollar-denominated bonds due 2023 fell to 10.47 percent as of 2:45 p.m. in Kiev, compared with yesterday's 10.76 percent, according to data compiled by Bloomberg.
The failure of authorities to clear the protest areas may force the government to compromise, said Tim Ash, the London-based chief economist for emerging markets at Standard Bank Group.
"This marks a significant victory for the opposition and a similarly important defeat for the security services and for Yanukovych," Ash said by e-mail today. "If he wants to stay in power he will now have to concede some ground. However, he still seems fearful that by showing any such weakness he risks the total collapse of his regime."
'Lost Chance'
Hundreds of riot police with shields flooded into a camp built by protesters last night and were met by crowds of people in orange helmets, with some scuffles breaking out. City workers used a bulldozer and chainsaws to help clear makeshift wooden and metal defenses set up around Independence Square, which was also the focal point of the 2004 Orange Revolution.
"After today's development, the authorities lost the chance to speak to us in a civilized way," opposition leader Vitali Klitschko, the world heavyweight boxing champion, said from a stage in the square. "I address all people of Kiev: please come here -- only together can we defend our rights."
Police officers were massed at the entrance to the square in the morning after some barricades were removed. Demonstrators were erecting new barriers today, with soup kitchens operating and distributing food and tea. Officers detained 30 people last night, according to Klitschko.
The government "has put the situation on a knife's edge" with last night's action, former Polish President Aleksander Kwasniewski, one of the EU's main negotiators with Ukraine, said on TVP Info today.
"Now it's up to them to find a solution, because resolving crises is the government's responsibility," he said.
'Mass Disorder'
The police operation in the early hours of the morning was intended to remove tents and other facilities set up by protesters, the Interior Ministry said on its website. Several people were detained for public-order offenses, police said in a statement.
"Illegal action toward law enforcement will be considered as organization of mass disorder," the Interior Ministry said in the statement.
The protesters were unconvinced.
"We need to sit and talk to solve our crisis peacefully," said Igor Tranko, 23, an unemployed protester from Kharkov who had a Ukrainian flag wrapped around his black jacket. "I'm shocked by what Yanukovych is doing. If he continues to use force Yanukovych's regime will fall. I have no words. It is outrageous."
The U.S. expressed "its disgust" with the government crackdown and urged Ukraine's leaders to exercise restraint in dealing with protesters, Secretary of State John Kerry said in an e-mailed statement Dec. 10.
Foreign Reaction
Yesterday evening, European Union foreign-policy chief Catherine Ashton visited the square after a 3 1/2 hour meeting with Yanukovych.
"I observe with sadness that the police uses force to remove peaceful people from the center of Kiev," Ashton said today in a statement. "Dialog with political forces and society and use of arguments is always better than the argument of force."
Yanukovych yesterday sought to switch the focus to the shrinking economy after First Deputy Prime Minister Serhiy Arbuzov said $10 billion was needed to avoid default.
"Everyone should concentrate on the economy," Yanukovych said yesterday in a televised round-table discussion with three former Ukraine leaders. "These political problems we have now, I will resolve in the coming days."
Financial Help
In search of financial aid, Yanukovych last week visited China and Russia, which had opposed Ukraine's plans to sign EU association and free-trade accords and is offering membership of a customs bloc instead. Speculation over the weekend that a deal with Russia was close fired up a rally that drew about 500,000 people, according to estimates by local media.
Ukraine is seeking 20 billion euros ($27.5 billion) in financing from the EU, Prime Minister Mykola Azarov said at a government meeting in Kiev today. Yanukovych has no plans to reach an agreement on Ukraine's membership in the customs union during a Dec. 17 trip to Moscow, Azarov said.
The loan request made today by the Ukrainian government was meant to distract from the government's responsibilities in the current political situation, German government spokesman Georg Streiter said at a news conference in Berlin.
On Independence Square, protesters last night waved blue and yellow Ukrainian flags with pro-EU slogans, sang songs and chanted for the government to resign. Opposition leaders continued to address the crowds as the police operation unfolded.
"They wanted to liquidate our camp, but people kept on coming," said Mikhailo Mykyta, a 37-year-old priest from Lviv who spent the night on the square. "We'll stay here until that bandit Yanukovych goes over the Urals to his friend Putin."
Before it's here, it's on the Bloomberg Terminal.
LEARN MORE