SeaWorld's Latest Problem: Rock Stars Won't Perform There
By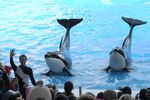 Monday's news that the veteran rock band Heart was canceling a February show at SeaWorld Entertainment is the latest sign that hit documentary Blackfish is having its intended effect on the popular marine parks. The film, which opened theatrically in July and has been recently airing on CNN, exposes the circumstances around the killing of trainer Dawn Brancheau by one of the park's orcas in 2010. In doing so, it condemns the practice of keeping killer whales in captivity.
At the time of the film's release, SeaWorld was faced with a tough choice: Ignore the film and hope it would go away, or fight back against Blackfish's allegations and turn it into a cause celebre. The company, which went public in April, decided to take a middle ground—after making some initial efforts to contact critics with strongly worded statements, it has mostly kept quiet about film. Unfortunately for the company, the film has continued to win critical acclaim and viewers—it currently enjoys a 98 percent "Fresh" rating on Rotten Tomatoes and has made $2 million at the domestic box office, an excellent total for a documentary.
More to the point, Blackfish has inspired significant public outrage against SeaWorld. At this year's Macy's Thanksgiving Day parade, a 12-year-old Tribeca girl made headlines when she stepped out in front of the SeaWorld float with a sign asking people to boycott the park.
And Heart joins an increasing number of musicians who have taken up the cause. Barenaked Ladies and Willie Nelson have also canceled appearances at SeaWorld Orlando in recent days. (If you're wondering why these rockers were even planning appearences there to begin with, it's because SeaWorld hosts an annual series of concerts in February and March called Bands, Brew & BBQ.) In most of these cases, the decisions have come as a result of fan pressure. For Barenaked Ladies, a petition with 9,000+ signatures on Change.org started by one of their fans appears to have played a crucial role. For Nelson, it was a combination of a small petition from one of his grandchildren and her friends, along with his own conscience: "What they do at SeaWorld is not OK," he told CNN.
The marine park has been fairly accommodating to the canceled acts and has even invited them to come down and see the work that's done there up close: "[They] have a standing invitation to visit any of our parks to see firsthand or to speak to any of our animal experts to learn for themselves how we care for animals," SeaWorld spokesman Nick Gollattscheck said.
Even some musicians who don't have concerts scheduled are getting in on the action. On Monday, Joan Jett asked SeaWorld to cease using her song I Love Rock 'n Roll as the intro music for the park's evening orca show, Shamu Rocks. "These intelligent and feeling creatures communicate by sonar and are driven crazy in the tiny tanks in which they are confined," she wrote, threatening to join a protest outside the park by PETA unless SeaWorld confirmed in writing that it would stop using her music. But while Jett claimed the song was being used without her permission, SeaWorld claimed that it had fully licensed the music. Nevertheless, SeaWorld has stopped using it for now.
Before it's here, it's on the Bloomberg Terminal.
LEARN MORE