RBS to Pay $100 Million to Settle U.S. Sanctions Probe
Greg Farrell and Keri Geiger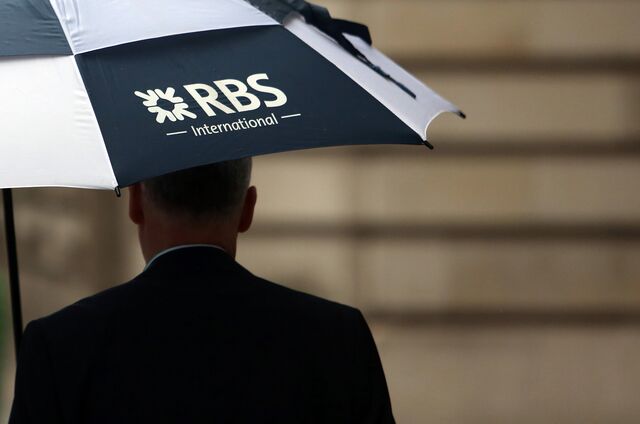 Royal Bank of Scotland Group Plc will pay $100 million to settle U.S. and New York regulators' accusations that it violated sanctions programs targeting Iran, Sudan, Burma and Cuba.
RBS, from 2002 to 2011, hid or failed to disclose information about the identities of sanctioned parties in 3,500 transactions valued at approximately $523 million, the New York Department of Financial Services said yesterday in a statement. The U.S. Treasury Department's Office of Foreign Assets Control and the Federal Reserve also were part of the settlement.
RBS said in a statement it "deeply regrets" its oversight failures and pledges to strengthen compliance controls.
The U.S. is cracking down on banks whose employees or executives concealed information about transactions involving parties in sanctioned nations. Mitsubishi UFJ Financial Group Inc., HSBC Holdings Plc, Standard Chartered Plc and ING Bank NV also have settled allegations that they failed to give the U.S. details of financial transactions related to Iran.
"We remain resolute in enforcing our comprehensive sanctions against Iran, and we will continue to take aggressive action against those who would flout our law," said David Cohen, undersecretary for terrorism and financial intelligence at Treasury.
Libor Fine
RBS must pay 391 million euros ($539 million) for rigging interest rates linked to Libor as one of six companies fined a record 1.7 billion euros on Dec. 4 by the European Union.
Britain's largest state-owned lender said it would claw back three-quarters of the money from bonuses and awards already paid to employees after it was fined $612 million for manipulating rates in a separate case over Libor in February.
The shares fell 2.8 percent to 317.70 pence in London. They have slipped 2.1 percent this year, making them the second-worst performer among Britain's five biggest banks.
An RBS payment-processing center in the U.K. received written instructions on how to evade detection when processing transactions involving sanctioned countries, according to Benjamin Lawsky, New York's top banking regulator.
The instructions, outlined in a consent order, said: "IMPORTANT: FOR ALL US DOLLAR PAYMENTS TO A COUNTRY SUBJECT TO US SANCTIONS, A PAYMENT MESSAGE CANNOT CONTAIN ANY OF THE FOLLOWING: 1. The sanctioned country name. 2. Any name designated on the Office of Foreign Asset Control (OFAC) restricted list, which can encompass a bank name, remitter or beneficiary."
'Individual Misconduct'
RBS cooperated with the investigation and has fired several employees who were involved in the wrongdoing, Lawsky said.
"If we truly want to deter future wrongdoing, we should move increasingly toward exposing individual misconduct and holding individuals accountable," Lawsky said in a statement.
HSBC agreed last December to pay $1.9 billion as part of a deferred prosecution agreement with the Department of Justice related to banking violations and money laundering around the world. Standard Chartered and ING Bank each agreed to pay more than $600 million in 2012 for violations involving Iran.
According to OFAC, RBS employees listed the actual name of the Iranian banks instead of their identifier codes, which prevented a payment system from automatically including the name of the sanctioned country in cover messages sent to U.S. clearing banks. Similar methods were used for payments involving Sudan, Burma and Cuba, OFAC said.
OFAC administers sanctions and embargoes against certain countries over issues ranging from narcotics trafficking to terrorism, according to its website. Sanctions against Iran are aimed at forcing the country to curb or abandon its nuclear program.
RBS, based in Edinburgh, said the Justice Department and New York District Attorney have concluded parallel investigations and are not taking any action against the bank.
Before it's here, it's on the Bloomberg Terminal.
LEARN MORE