business
Overcapacity Threatens China Growth
By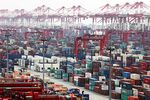 The biggest obstacle facing China's economy? Massive industrial overcapacity is near the top of the list as the country prepares to launch major reforms but seems intent on keeping gross domestic product growth from falling off too quickly.
"What's the principal contradiction for China's economy? I think it is overcapacity. Future reforms and structural adjustment should focus on this problem, or it will be hard to see results," Wang Jian, secretary general of the China Society of Macroeconomics, was quoted saying in the Chinese media on Nov. 30.
Not surprisingly, steel is an industry in which the problem is particularly severe. That's because China's growth in recent years has been propelled by a massive investment splurge, much of which has gone towards building things—trains, bridges, high-rises, and new factories—all of which use rebar and other steel products.
"The net profit margin of large and medium Chinese steel companies has fallen to zero as capacity growth has exceeded demand growth," writes economist Zou Jiming in a report (subscription required) released by Moody's Investors Service on Dec. 11. "Steelmakers profits will remain at historically low levels as output remains high and demand growth slows."
The problem extends far beyond steel, afflicting aluminum, cement, coal, solar panels, and ship-building. According to a recent survey of 3,545 enterprises by the State Council's Development Research Center, 71 percent of respondents called overcapacity "relatively serious" or "very serious."
Meanwhile, factories are running at an average of 72 percent of capacity, down 0.7 percentage points from 12 months ago. About 68 percent of companies said they would need more than three years to work through their overcapacity.
Chinese officials have warned of a possible explosion of bad loans in industries facing the excess inventory problem. Banks must "seek channels to clean up bad loans by industries with overcapacity to prevent new risks from brewing," warned China's top banking regulator Shang Fulin last month, reported Bloomberg News.
Before it's here, it's on the Bloomberg Terminal.
LEARN MORE