business
China's Female Factory Workers Face Widespread Sexual Harassment
Christina Larson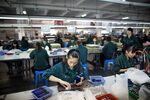 For seven years, Luo Hongmei toiled in factories in China's southern Guangdong province, experiencing firsthand the daily struggles that face millions of young female workers before deciding to join China's fledgling labor-rights movement. As director of the Guangdong-based nonprofit Sunflower Women Workers Center, her mission is to bring attention to—and, she hopes, find solutions for—women's workplace issues, such as unpaid maternity benefits and illegal firings for becoming pregnant.
Recently Luo oversaw a study about another disturbingly common and little-discussed problem: rampant sexual harassment (PDF). Seventy percent of female factory workers who answered a survey the center conducted in fall 2013 said they had experienced some form of workplace sexual harassment. One in four said they had received obscene phone calls or pornographic messages, almost one in 10 reported having been directly propositioned for sex at work, and 15 percent had quit their jobs because of unwanted sexual attention that neither factory management nor police ventured to stop.
"This happens so often, but as with domestic violence"—a silent epidemic in China—"the police and society largely consider it a private issue, not something to discuss or judge in public," says Luo. "The public tends to blame the women themselves." None of the 134 female workers surveyed said they had sought help from China's official government-led trade union or from the All-China Women's Federation, both of which are ostensibly charged with safeguarding worker rights and safety.
"Sexual harassment is not something that's widely discussed in China; a lot of employers think it's no big deal, and male co-workers think it's no big deal," says Geoffrey Crothall of the Hong-Kong based China Labor Bulletin, a non-governmental organization that translated the survey (PDF) into English.
Nor is unwanted sexual attention confined to assembly lines. "Sexual harassment is a really serious problem in China; it's very common in the service industries and also in academia, finance, and many professional workplaces," says Leta Hong Fincher, author of the forthcoming book Leftover' Women: The Resurgence of Gender Inequality in China. "It's extraordinarily difficult for a woman to seek help if she is harassed or raped. She would have to go to her boss to file a complaint about a supervisor or co-worker, and companies don't take this seriously, as is technically required by law."
Luo hopes to eventually change attitudes. She encourages the women she works with in Guangdong "to know that victims have done nothing wrong—and it's their basic right to  seek protection."
Before it's here, it's on the Bloomberg Terminal.
LEARN MORE