Chick-fil-A Changed Its Ingredients and Didn't Tell Anyone
By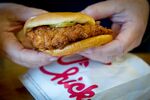 There are, apparently, a number of ways to make breaded chicken sandwiches healthier. To this end, Chick-fil-A has been quietly switching out ingredients over the past decade. According to Nation's Restaurant News it eliminated heart-disease-promoting trans fats in 2006, removed high-fructose corn syrup from its bagels and golden wheat bread, and gradually reduced sodium in some products. Now the 1,700-store chain is working to remove preservatives from its breads and oil.
What's unusual about the efforts is that Chick-fil-A has largely refrained from publicizing them until now, hoping to avoid ire about any perceived change in flavor. Fast-food companies have had to balance customer loyalty to well-known menu items with growing pressure to offer healthier options. "We didn't necessarily want the customer to know we've tweaked their favorite product," Jodie Worrell, the chain's senior nutrition consultant, told NRN.
Chick-fil-A is testing a preservative-free white-bread bun in about 200 stores, and it's trying out a peanut oil without TBHQ, a chemical that extends the shelf life of oils but can cause health problems if consumed in large volumes. It will remove high-fructose corn syrup from sauces and dressings. And due to concerns about the health effects of food dyes, the chain is also looking into removing yellow food dye from its soup base and ice cream, reported NRN.
One ingredient the restaurant hasn't yet managed to get rid of: MSG, which is used in its fried chicken breast sandwiches. Chick-fil-A remains in the early stages of evaluating MSG-free recipes, according to the report.
Chick-fil-A revamped its salad menu this year, and its website states: "Chick-fil-A can fit into almost any healthy diet through moderation and balanced menu choices."