Miami Scene: Chanos, Marc Leder, Perry, Elle Macpherson
Amanda Gordon and Katya Kazakina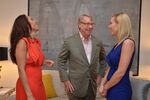 Jim Chanos, who's on the board of the Tate Americas Foundation, helping acquire works from the Western Hemisphere, had an airtight explanation for skipping the openings of the Miami art fairs.
"This was a week to make money, not spend it," said Chanos, the president and founder of Kynikos Associates LP, whose short-sale bets on a computer-services company involved with the Obamacare website hit the press last week.
By Friday evening he was off his trading screens and in his Miami Beach home hosting his 10th annual Art Basel party, where he gathered plenty of tips from his guests.
"I bought three paintings," said Marc Leder, co-chief executive officer of Boca Raton-based Sun Capital Partners Inc. "I spent about $100,000."
On his iPhone, Leder showed photographs of his purchases, including an abstract collage painting by German-born, New York-based artist Michael Bauer.
"It's edgy," Leder said. "I just started collecting art. I'm doing it for fun and because I thought it'd be a great thing to do with our kids. I've been so focused on business; this is a way to grow as a person as well."
Leder recognized the Damien Hirst hanging in the dining room. The apartment also features works by Miami artist Daniel Arsham and a few others who lived together 10 years ago in The House, a now-demolished former drug den in the Wynwood gallery district.
Bear Trap
"In a weird way, I got more involved in the art scene here than in New York," Chanos said. "I was able to make more friends here because it was nascent."
Art adviser Edsel Williams helps Chanos on his collection, which includes a Gerhard Richter in the living room.
A gold-plated bear trap by Max Snow sits on a cocktail table. Chanos joked it is non-functioning and will therefore never capture him.
Guests included Jeanne Donovan Fisher, chairman of the Tate Americas Foundation; John Good, Christie's senior vice president and international director of private sales for postwar and contemporary art; Thomas Gramatis, president of Wrigley Field Rooftops; and Jayma Cardoso, owner of the Surf Lodge in Montauk, New York.
Richard Perry of Perry Capital LLC, who is also the chairman of Barneys New York, put on a shiny tuxedo Saturday night. He was attending a gala for the Perez Art Museum Miami, or Pamm, which has opened in a new building designed by Herzog & De Meuron.
Bicycle Wheels
Outside, Perry found hanging gardens and a terrace with views of the water and the highway. Inside were model Elle Macpherson, Ai Weiwei's stacks of bicycle wheels and Josephine Meckseper's installation "Thank a Vet." Formerly the Miami Art Museum, Pamm is named for donor Jorge M. Perez, chief executive officer of the Related Group of Florida, whose boss, Stephen Ross, was also a gala guest. The event raised more than $2 million.
Third Point LLC's Dan Loeb sped through Sadie Coles's booth at the Art Basel Miami Beach fair late Thursday afternoon, proving that fitness helps one navigate a vast art emporium.
Sometimes the art itself can help keep its buyer in good shape. On Saturday morning, Grey Area unveiled yoga mats designed by artists. Brooklyn-based Jon Kessler asks yogis to stretch on a $100 bill, while New York-based Andrew Kuo's has a cat in a sun salutation.
"The many hours people spend staring at their mats" puts them in "an ideal condition for viewing art," says the Grey Area website.
The mats are $90, making them an affordable present for yoga enthusiast Loeb, who turns 52 on Dec. 18.
Shriver Nonprofit
A charity art auction during Art Basel week raised almost $1 million for Best Buddies, a nonprofit established by Anthony Kennedy Shriver to help people with disabilities. It took place at the historic home of real-estate developer Ugo Colombo, overlooking Biscayne Bay. Palm trees and vintage Aston Martins and Maseratis greeted the guests, who included Leonardo DiCaprio, Val Kilmer and Russian billionaire Alexey Kuzmichev, a co-founder of Alfa Group.
At the Fondation Beyeler stand inside the Art Basel fair, more than 2,000 "Little Sun" solar-powered LED lamps, designed by artist Olafur Eliasson and engineer Frederik Ottesen, sold for $30 apiece. Buyers helped fund the distribution of the lamp to people living in developing countries who lack access to electricity.
(Amanda Gordon and Katya Kazakina are writers for Bloomberg News. Any opinions expressed are their own.)
Before it's here, it's on the Bloomberg Terminal.
LEARN MORE