Lloyds Sells Its Remaining Stake in St. James's Place
Sarah Jones, Ruth David and Gavin Finch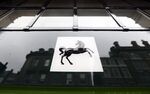 Lloyds Banking Group Plc, Britain's largest mortgage lender, sold its remaining stake in St. James's Place Plc for about 680 million pounds ($1.1 billion) as it focuses on its main retail and commercial businesses.
Bank of America Corp. placed the shares at 630 pence apiece, the London-based bank said in an e-mailed statement today. They were offered between 625 pence and 630 pence, said two people ahead of the announcement who asked not to be identified because the information wasn't public yet.
Lloyds Chief Executive Officer Antonio Horta-Osorio has been selling assets, eliminating jobs and cutting costs as the government plans to return the bank to full private ownership. The bank offered shares in St. James's Place in May and March and last month sold its Scottish Widows Investment Partnership unit for 560 million pounds to Aberdeen Asset Management Plc.
"The group has been reducing non-core businesses and addressing historic issues, while focusing on increasing net lending to its core segments," Horta-Osorio said yesterday. "The sale of the remaining stake in St. James's Place releases further resources and represents another step toward refocusing this business on its core customers."
Shares Rise
St. James's shares rose 0.5 percent to 647 pence in London. They have gained about 54 percent this year, making them the best performer on the FTSE 350 Insurance Index. Lloyds's stock was little changed at 78.16 pence.
The Prudential Regulation Authority said on Nov. 29 that British banks will have to comply with tougher capital rules by 2014, five years ahead of an international timetable to boost their resilience in future financial crises. Lloyds and Royal Bank of Scotland Group Plc both received government aid.
Lloyds said today it will realize a gain on the sale of about 105 million pounds, up from an initial estimate of 95 million pounds. The common equity Tier 1 capital ratio under Basel III rules, a measure of financial strength, is seen increasing by about 685 million pounds, it said.
The sale reflects "the strong demand in the market" for St. James's Place shares and will boost liquidity, Lloyds said. The wealth manager had about 42 billion pounds in funds under management at the end of September, according to the statement.
"We remain positive on the prospects for St. James's Place," said Eamonn Flanagan, a Liverpool, England-based analyst at Shore Capital Group Ltd. with a buy rating on shares. "Not only is an 'overhang' on the shares removed, the sale also facilitates the group's weighting in the life sector."
Additional share sales in Europe, the Middle East and Africa raised about $110 billion this year, data compiled by Bloomberg show. That's almost double what was sold in 2012, as stock owners capitalized on renewed investor interest in the region on the strength of an economic recovery.
Lloyds purchased the wealth manager as part of its acquisition of HBOS Plc in 2008, a transaction that forced the bank to seek a 20 billion-pound bailout.
Before it's here, it's on the Bloomberg Terminal.
LEARN MORE