Deadlock on ECB's Bank-Crisis Plan in Focus of EU Meeting
Rebecca Christie, Jim Brunsden and Rainer Buergin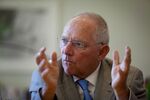 Germany softened its opposition to key elements of a plan for handling euro-area bank failures as European Union finance ministers raced to break a deadlock on the proposal before next week's EU summit.
German Finance Minister Wolfgang Schaeuble yesterday opened the door to an agreement on giving the European Commission a role in saving or shuttering banks, something he had previously rejected. Germany would also consider splitting talks on the proposed Single Resolution Mechanism, a government official said, with parallel negotiations on a decision-making mechanism and on a common fund that has proven a lightning rod for criticism.
"It might be possible to find a political agreement on the broader principles today," Sweden's Finance Minister Anders Borg told reporters on his way into a Brussels meeting with his EU counterparts. "It might be a long night, but there are some good steps that have been taken, and then we'll probably have to get back for all the legal work later on, before Christmas," he said.
EU leaders have made an agreement on the bank-failure bill a top priority for their Dec. 19-20 meeting, with the goal of getting the law on the books before the European Parliament goes into recess for elections in May. The most contentious issues in the talks have been the common fund, the scope of the mechanism and the question of who'll have the final say in ordering a bank closure.
'Strong and Independent'
The European Central Bank says the plan, introduced in July by Michel Barnier, the EU's financial-services chief, is vital to the bloc's efforts to prevent future financial crises. The ECB begins to supervise euro-area banks next November, and wants a "strong and independent" resolution authority with a central fund to cover related costs.
Progress on the SRM has also been slowed by the prolonged coalition talks in Berlin since Chancellor Angela Merkel's party won a Sept. 22 election.
Schaeuble, Barnier, ECB Executive Board member Joerg Asmussen and finance ministers from France, Italy, Spain, the Netherlands and Lithuania held talks into the evening yesterday, renewing a negotiating format first used in Berlin on Dec. 6.
Resolution Costs
"We made some progress in a number of bilateral talks over the last days, and I would expect that on the Single Resolution Mechanism we will manage to narrow down the differences today," Asmussen said as he entered the meeting. "I do not expect that we reach a final agreement already today," Asmussen said, with a follow-up meeting likely before the summit.
The first bone of contention is Barnier's common fund, filled by levies on banks, which would cover resolution costs. Asmussen reiterated the ECB's insistence on a single fund, not a network of national funds as some countries have proposed. The fund should have a "credible" backstop during a planned 10-year topping-up period, he also said.
Dutch Finance Minister Jeroen Dijsselbloem, who floated the idea of splitting the SRM proposal last week, intended to help resolve a debate on the legal basis for Barnier's plan, and particularly the common fund.
Today, Dijsselbloem said "new variations" were on the table for solving the legal debate.
Spain-Style Bailout
The Dutchman has also laid out a new proposal for how the fund would work, calling for a system where each country's banks pay into a national compartment that would be tapped first in time of crisis.
In the policy agreement reached by Merkel's Christian Democrats and the Social Democrats, the two parties backed "a unified European resolution fund" filled by levies on banks. Until it's up and running, national resolution funds -- and ultimately national governments -- would be responsible for their own banks, with the possibility of seeking a Spain-style bailout from the European Stability Mechanism.
French Finance Minister Pierre Moscovici yesterday reiterated his support for a single resolution fund with a "unique backstop" to cover shortfalls as the fund is filled.
With the fund handled separately, a compromise might be possible on the mechanism Barnier set out for handling bank failures, with the commission, the EU's regulatory and executive arm, signing off on resolution decisions. After months of rejecting this idea, Schaeuble yesterday indicated a willingness to compromise.
'Conflict of Interest'
"We all know what the European legal situation is," Schaeuble told reporters as he entered a meeting of euro-area finance chiefs. "There is a limitation that an agency can't take a final decision. We need a formal confirmation. But that has to be done in a way that avoids a conflict of interest within the commission. I think there are solutions for that."
EU nations by "a large majority" consider that the final decision-talking role should be given to the commission, according to a Lithuanian note published on the EU's website, and dated Dec. 6. Lithuania holds the EU's rotating presidency.
On the scope of the resolution authority, the German coalition platform, which must still be approved by the Social Democrats rank and file, supports the creation of "a European resolution authority" that would cover "systemic, cross-border banks."
Creditor Losses
Barnier's proposal would place all euro-area banks within the SRM. Germany favors a compromise that would mirror the supervision deal hashed out for the ECB, which leaves it out of day-to-day decisions over most banks while allowing it to intervene at any bank if necessary.
Other outstanding issues in the talks include how soon the EU should activate planned tougher rules on creditor losses at failing banks, with Germany among nations calling for an earlier start-date.
Ministers also need to tackle concerns raised by the U.K. and Sweden, two countries outside the euro area, that they could face unfair costs or be discriminated against unless safeguards are built into the text.
Before it's here, it's on the Bloomberg Terminal.
LEARN MORE