'Hot' Flavor Sriracha: The New Pumpkin?
by


Americans' burning love for the spicy, sweet, garlicky, Southeast Asian condiment sriracha has spread beyond noodle dishes. Much like pumpkin spice and bacon before it, sriracha's now being distilled into an unorthodox flavor for things like candy and booze.
Yes, booze. This month, Phillips Distilling launched UV Sriracha Vodka, which is being marketed for use in Bloody Marys. "We noticed a trend in the marketplace. The spicy flavor craze was booming and we immediately jumped on it," said Jason Connelly, Phillips's vice president of sales, in an e-mail.
The company expects to sell 2.4 million bottles of the vodka within a year, insisting it won't be a short-lived novelty flavor. "There is no such thing as a novelty flavor, as each of UV's 20 flavors do very well and find a place on the shelf for many different reasons," said Connelly. In other words, even if sriracha flavor isn't for every occasion, Phillips doesn't think it's going away.
The sauce that launched the flavor trend is selling well. Huy Fong Foods—the company behind the popular brand with the rooster logo and green cap—says it sold 20 million bottles of sriracha in 2012. An unofficial page at Facebook for the so-called "rooster sauce" has more than 260,600 likes.
Sriracha may be inspiring flavor ideas for food manufacturers, who hanker after new varieties to entice consumers, but Huy Fong doesn't profit from the new products. As with bacon and pumpkin, the flavor rarely comes from sriracha sauce, but rather a combination of flavors that simulate it. UV, for instance, uses chilies, garlic, sugar, and vinegar in its vodka.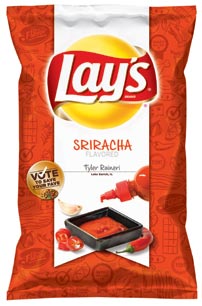 As for snacks, on the savory side, J&D Foods teamed up with the Oatmeal, a website, in 2012 to launch sriracha-flavored popcorn. This year, Lay's "Do Us A Flavor" contest yielded a Sriracha-flavored potato chip made with "sriracha seasoning" that ended up on shelves for the competition from February to May. Despite losing to Cheesy Garlic Bread flavor, the spicy Lay's chips made a limited-time encore over the summer.
On the sweet side, there are sriracha lollipops by Lollyphile, a company that offers pops in such weird flavors as blue cheese and breast milk (not made from real breast milk). And in time for the holidays, Thinkgeek—a site for novelty items–is selling sriracha-flavored candy canes.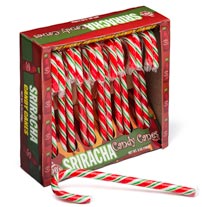 How long does a flavor trend last? We asked Beam, the liquor company that makes Jim Beam and Pinnacle's rotating portfolio of flavored vodkas (including the new Cinnabon vodka) for some insight. Mallika Monteiro, senior brand manager for vodka at Beam, explained in an e-mail: Consumers "are always looking for something new and fresh. … We see flavor popularity shift with the season … and we have something for every occasion, season and mood."
As for whether a flavor is successful, "There is the hard sales data of course, the number of cases we've sold and how it contributes to our overall business objectives. But we also look at how our fans receive the flavor and whether they are excited about it and want to talk about it to their friends," said Monteiro.
Before it's here, it's on the Bloomberg Terminal.
LEARN MORE