Pele Says Brazil Humble After 1950 Soccer World Cup Failure
Tariq Panja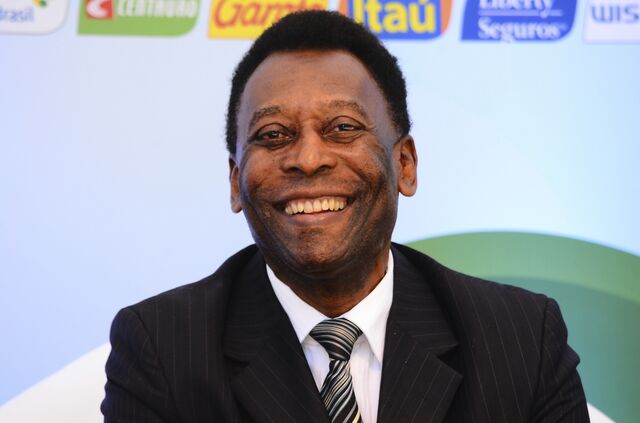 Pele, the only person to win three World Cups as a player, said Brazil will enter next year's tournament with more humility than when the country last hosted soccer's marquee event in 1950.
Then, the nation was shocked 2-1 by Uruguay in the final game at Rio de Janeiro's Maracana stadium in what is considered as a national tragedy by some Brazilians. Pele said he remembers a party atmosphere before the match started.
"It was as if Brazil had won before the game," the 73-year-old said yesterday in a telephone interview. "We will be careful this time and respect people. That's a better way than
1950."
Brazil will be bidding for a record-extending sixth World Cup when the competition kicks off in Sao Paulo June 12. Pele will be in the Brazilian resort of Costa do Sauipe tomorrow for the draw to determine which teams face each other in the opening phase of the 64-game competition.
Pele said history shows the tournament is difficult to predict. Brazil's 1982 team featuring players including Zico and Falcao were talked up as winners before being eliminated in a second-group stage by eventual champion Italy, Pele said.
"You must respect the World Cup," Pele said. "It's a box of surprises."
In 1950, then-FIFA President Jules Rimet had prepared a speech in Portuguese on the assumption Brazil would win the final. In the end, he handed the trophy to the Uruguayan captain without fanfare as 173,850 fans sat in silence.
1950 Tears
Mario Zagallo, the first person to win the World Cup as a manager and player, said he watched the game inside the arena.
"There were 200,000 people in the stadium with white handkerchiefs, which ultimately became a huge handkerchief to dry our tears because we cried so much that day," Zagallo told reporters in today. Zagallo won the World Cup as a player in 1958 and 1962, before coaching the team to the title in 1970.
Brazil beat world champion Spain 3-0 in the Confederations Cup final in June and no European team has won the World Cup in four editions held in South America. Still, Pele said Spain and Germany are favorites.
'The King'
Pele, known as "the King" in Brazil, said he believes Argentina's four-time world player of the year Lionel Messi is better than Portugal's Cristiano Ronaldo, although neither is as good as former France midfielder Zinedine Zidane.
"To me if you want to compare with someone, compare with Zidane," said Pele, who was hosting a fitness session with Olympic swimmer Michael Phelps promoted by Subway Restaurants. "He was the complete player. Zidane was good with both feet and he could also head very well. He was a more complete player."
Zidane scored two goals in France's 3-0 World Cup final win over Brazil in 1998. He was sent off for head-butting Italy's Marco Materazzi in the 2006 final.
Pele said he expects Brazil forward Neymar to be one of the standouts of the World Cup. The 21-year-old quit Pele's former team Santos in Brazil in May to move to Barcelona in a deal worth $75 million.
Playing for one of Europe's top teams will benefit Neymar ahead of the World Cup, Pele said.
"We miss him very much but it's very good for him," Pele said.
Before it's here, it's on the Bloomberg Terminal.
LEARN MORE