Bangkok Police Remove Barriers to Defuse Political Tensions
Anuchit Nguyen and Supunnabul Suwannakij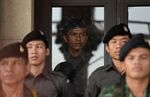 Anti-government protesters entered the grounds of the Thai prime minister's office and Bangkok's police headquarters without facing resistance from the police, easing tensions after more than two days of street clashes.
The police removed barriers protecting the compounds and told demonstrators they were free to "hold a symbolic rally," spokesman Piya Uthayo told reporters in Bangkok. "There has been no confrontation today," he said.
Riot police fired tear gas and used water cannons to repel demonstrators seeking to storm Government House yesterday. The change in tactics may lead to a pause in the group's push to unseat Prime Minister Yingluck Shinawatra and dismantle the political network of her brother, Thaksin Shinawatra, as Thais prepare to celebrate the birthday of King Bhumibol Adulyadej.
"The protest leaders now realize that Yingluck is not going to suddenly cave in to their demand to resign today," said Paul Chambers, director of research at the Institute of Southeast Asian Affairs at Chiang Mai University. "So they had to give their followers a success."
Thailand's SET Index of stocks rose 0.4 percent to 1,379.55 as of 4 p.m. in Bangkok, headed for a third daily gain. The benchmark gauge for the nation's $371 billion stock market retreated 5 percent last month as foreign investors sold a net $1.5 billion of shares, the most among 10 Asian markets tracked by Bloomberg. The baht weakened 0.2 percent to 32.190 per dollar. Markets will be closed on Dec. 5 to mark the 86th birthday of King Bhumibol, the world's longest-reigning living monarch.
'Partial Victory'
"This is a partial victory," said protest leader Suthep Thaugsuban, who has called for the government to be replaced by an unelected council. "It's not absolute yet because the tyrant government is still there. So, we still can't go home."
Yingluck yesterday said the demand was "unimaginable" under the constitution, and called for talks to end a dispute that is damaging Southeast Asia's second-largest economy.
The economy grew 2.7 percent in the third quarter from a year earlier, the slowest pace since the first three months of 2012, official data show. The central bank cut its 2013 growth estimate to about 3 percent from 3.7 percent on Nov. 27.
The rallies began more than a month ago to oppose a proposed amnesty law that Yingluck's critics said would benefit her brother. Thaksin has lived in self-imposed exile since fleeing abuse of power charges in 2008, and has helped guide policy from abroad since Yingluck led the Pheu Thai party to victory in a 2011 election.
Arrest Warrants
After the amnesty legislation was rejected by the Senate last month, the protesters switched their goal to rooting out Thaksin's influence in politics. Parties linked to the former premier have won the past five elections on support from voters in northern and northeastern provinces.
Suthep was a former deputy prime minister with the main opposition Democrat party, which hasn't won a national poll in more than 20 years. He faces murder charges for his role in helping to oversee a deadly crackdown on supporters of Thaksin in 2010 when the Democrats were in power. Courts issued two warrants for his arrest this week, including one on a charge of insurrection, which carries a penalty of life imprisonment or death.
The protesters have called on the military to choose a side, although so far army chief Army chief Prayuth Chan-Ocha has simply offered to act as a mediator to ease tensions.
The armed forces will "stand from afar and monitor" the protests, Prayuth told reporters today, adding that political problems should "be solved by politics."
'Bare Hands'
"If the military stages a coup, it will be done within three hours," Suthep told supporters today. "But our way to regain power from the tyrant government will take time because we have only our bare hands."
Suthep has declined to negotiate with the government, and said the protests will continue even if Yingluck resigns or dissolves parliament.
While political tension may ease ahead of the king's birthday celebration, protests may resume soon after, said Jade Donavanik, dean of the Graduate School of Law at Bangkok's Siam University.
"This is like pressing the pause button on a movie," Jade said. "You never know from here on whether it will be a happy ending or whether everyone will die at the end."
Before it's here, it's on the Bloomberg Terminal.
LEARN MORE