China IPO Flood Seen Bursting Small-Cap Bubble
Weiyi Lim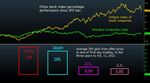 The benchmark index for Chinese small-company stocks will probably enter a bear market after the government's plan to resume initial public offerings sparked a record rout yesterday, Bocom International Holdings Co. said.
The CHART OF THE DAY shows the ChiNext index has rallied 76 percent since Oct. 11, 2012, the day the last IPO took place, compared with a 5 percent increase for the benchmark Shanghai Composite Index. In the three years to Oct. 11, Chinese IPOs jumped an average 33 percent on their first day of trading, according to data compiled by Bloomberg. That's more than the average advance for shares in the U.S., Japan and the U.K., which ranged from 6.8 percent to 28 percent.
The China Securities Regulatory Commission, which suspended IPOs to reduce fraud and prevent a flood of supply from dragging down the market, said on Nov. 30 that 50 companies will be ready for new share sales by the end of January. The index of 100 small cap-companies tumbled 8.3 percent yesterday, taking its decline from the Oct. 9 peak to 11 percent, on concern investors will reduce holdings to buy shares in IPOs.
"This is popping the bubble in the ChiNext," Hao Hong, chief China strategist at Bocom International in Hong Kong, said by e-mail. "It will not be long before it falls 20 percent," the common definition of a bear market.
The ChiNext trades at 31 times projected earnings for the next 12 months, while the benchmark Shanghai Composite is valued at 8.7 times, according to data compiled by Bloomberg. Policy makers are lifting the IPO ban following pledges by the Communist Party to increase the role of markets and a 14 percent rally by the Shanghai index from this year's low in June.
There are more than 760 companies in the queue for approval and it will take about a year to complete an audit of all the applications, the CSRC said. China was the world's largest IPO market in 2010, with a record $71 billion raised. The ChiNext has a market capitalization of $142 billion.
Before it's here, it's on the Bloomberg Terminal.
LEARN MORE