Thai Anti-Government Protesters Vow to Seize Police Headquarters
Supunnabul Suwannakij and Suttinee Yuvejwattana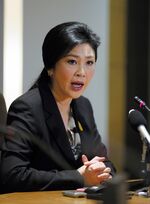 Thai protesters said they will seize Bangkok's police headquarters today after failing to secure the facility yesterday, signaling their month-long effort to oust Prime Minister Yingluck Shinawatra may be losing momentum.
Protest leader Suthep Thaugsuban, a former deputy prime minister with the main opposition Democrat party, called for the police and civil servants to support the demonstrators. Prime Minister Yingluck Shinawatra said a demand to replace the government with an unelected council was "unimaginable" under the constitution, and called for talks to end a dispute that is damaging Southeast Asia's second-largest economy.
Rallies that began more than a month ago against a proposed amnesty for most political offenses stretching back to a 2006 coup that toppled Yingluck's brother, Thaksin Shinawatra, from power have morphed into a wider push to replace what Suthep has called the "Thaksin system" of political dominance. The protests peaked Nov. 24 when more than 100,000 people took to Bangkok's streets, and the number of demonstrators has declined as Suthep's tactics have grown more aggressive.
"Can he still be hoping that violence there will lead to some sort of intervention?," said Michael Montesano, a visiting research fellow at the Institute of Southeast Asian Studies in Singapore. "There has been no sign of where that intervention would come from."
The police used tear gas yesterday when protesters tried to remove barricades around Government House, which has been declared off-limits by the administration and has been a target of protests during the past seven years of political unrest in Thailand. Clashes between government supporters and opponents killed three people over the weekend.
Unelected Council
Protest leaders have said they want to replace Yingluck's government with an unelected council, and they may seek a resolution before Dec. 5, a national holiday marking the birthday of Thailand's king, Bhumibol Adulyadej.
"The protests have had a significant impact on the Thai economy and image," Foreign Minister Surapong Tovichakchaikul said yesterday, adding the government would use "patience and peaceful measures" to end the demonstrations. "We are confident to bring back normal life soon," he said.
Protest leader Suthep says he is seeking to erase the influence of Thaksin, whose opponents claim was corrupt, won elections by buying votes and disrespected the monarchy.
Suthep helped oversee a deadly crackdown on supporters of Thaksin in 2010 when the Democrat party was in power, for which he faces murder charges. An arrest warrant was issued for Suthep on Nov. 26 for leading an occupation of the Ministry of Finance, and warrants were issued for four other protest leaders yesterday for urging demonstrators to break into the Ministry of Foreign Affairs, according to a statement by the Criminal Court.
No Negotiation
Suthep has refused to negotiate with the government, saying he will settle for nothing less than Thailand's democratic system being replaced by an unelected council consisting of people from a cross-section of society.
"If they hold an election again, Thaksin will buy votes and will win again, and the same cycle will be repeated," Suthep said in a speech to supporters late yesterday.
Yingluck said that while she didn't want to be a "problem" for the country, Suthep's plan was unconstitutional.
"A demand for resignation and house dissolution is more reasonable," she said in a televised briefing yesterday. "The establishment of a people's parliament is unimaginable."
Court Rulings
Parties linked to Thaksin have won the past five elections on support from voters in northern and northeastern provinces, who say their voices have long been ignored in Thailand's political system. The protests in Bangkok are led by the Democrats, who haven't won a national poll in more than 20 years and are seen as the party of urban Bangkokians and the nation's aristocracy, who see Thaksin as a threat to traditional institutions, including the monarchy.
The Democrats came to power in 2008 after a Thaksin-allied party was disbanded by a court ruling, which came amid an eight-day seizure of Bangkok's airports by royalist anti-government protesters. Yingluck won a parliamentary majority in 2011.
Demonstrators, some armed with slingshots and petrol bombs, swarmed the barricades around Government House and the nearby Metropolitan Police Office yesterday and clashed with police. At one point the protesters used a garbage truck and a backhoe to try to break through the concrete barriers.
As night fell in Bangkok, protesters continued efforts to break through barricades protecting Government House, Satit Wonghnongtaey, one of the group's leaders, told reporters.
Symbolic Target
No violence was reported at any other protest sites in the city, including at a rally outside the national police headquarters in downtown Bangkok, which was the site of the deadly 2010 crackdown.
Government House, the Thai equivalent of the U.S. White House, is a symbolic target and its seizure would have no effect on government operations.
In 2008, the same protesters who took over the airport occupied Government House for three months. In 2009, it was held for 19 days by pro-Thaksin supporters.
Thailand's SET Index, the benchmark gauge for the nation's $371 billion stock market, retreated 5 percent last month as foreign investors sold a net $1.5 billion of shares, the most among 10 Asian markets tracked by Bloomberg. The gauge rose 0.2 percent to 1,374.26 yesterday.
Thailand's economy grew 2.7 percent in the third quarter from a year earlier, the slowest pace since the first three months of 2012, official data show. The central bank cut its 2013 growth estimate to about 3 percent from 3.7 percent on Nov. 27, the same day it unexpectedly lowered its benchmark interest rate by a quarter of a percentage point, to 2.25 percent.
Army Mediator
Army chief Prayuth Chan-Ocha offered to act as a mediator to ease tensions, said deputy army spokesman Winthai Suvaree.
Suthep said he met Yingluck, Prayuth and the heads of the air force and navy two days ago, and declined to negotiate.
The protesters have called on the military to choose a side, something the generals don't seem willing to do in a country that has experienced nine coups and had more than 20 prime ministers since 1946, when King Bhumibol took the throne.
Thaksin has lived overseas since a court in 2008 sentenced him to two years in prison for corruption. He says the charges were politically motivated.
Before it's here, it's on the Bloomberg Terminal.
LEARN MORE