Ukrainians Call for Yanukovych and Government to Resign
Daryna Krasnolutska, Kateryna Choursina and Bryan Bradley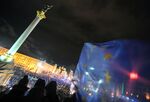 Ukrainian protesters and police clashed after hundreds of thousands defied a ban on rallies, ratcheting up pressure on President Viktor Yanukovych after he refused to sign an agreement with the European Union.
A throng estimated by the opposition at about half a million converged on central Kiev today to hear boxing champion Vitali Klitschko appeal for a new government. Police spokeswoman Olha Bilyk, who declined to estimate the crowd size, said 100 police officers were injured when a group of young people tried to storm the presidential administration building.
The protests gripping the country from Lviv to Kharkiv mark the biggest political crisis in Ukraine since the 2004 Orange Revolution, in which an opposition group including jailed ex-Prime Minister Yulia Tymoshenko overturned a presidential election initially won by Yanukovych. Opposition politician Oleh Tyahnybok called today for a nationwide strike.
"We demand the resignation of the government," said Arseniy Yatsenyuk, a lawmaker from Tymoshenko's political party. "We urge our foreign partners to use sanctions against Yanukovych's regime. Authorities, go away! Yanukovych, go away!"
As of 6 p.m. in Kiev, 53 people asked for medical help, the city government said in a statement. About 40 people were injured yesterday when Ukrainian police broke up a rally on Independence Square after midnight.
EU Snub
Protests began on Nov. 21 when Yanukovych suspended progress toward an association agreement with the EU, opting instead to strengthen ties with Russia. They intensified this weekend after the president failed to reconsider the deal at an Nov. 28-29 EU summit in Vilnius.
Ukraine's 2023 government bonds fell on Nov. 29, sending the yield up 11 basis points, or 0.11 percentage point, to to 9.966 percent, the highest level since Nov. 14, data compiled by Bloomberg show. The cost to insure the country's debt against non-payment using credit-default swaps was unchanged at 987 basis points, leaving the ex-Soviet state as the world's fourth-riskiest nation behind Argentina, Venezuela and Cyprus.
Opposition leaders urged people to keep all rallies peaceful, with Tyahnybok saying protesters would install tents on Independence Square in the center of Kiev. The opposition is convinced that violence by protesters today was orchestrated by the government to justify a crackdown, Yatsenyuk said on television.
Some protesters forced their way inside the mayor's office in Kiev after requests for a meeting were ignored, television channel 1+1 reported.
'Toward EU'
Yanukovych said today he still favors "moving toward the EU," so long as that doesn't hurt the country economically. Russia, which accounts for about a quarter of Ukraine's trade, has said an agreement with the EU could harm those relations.
"Our country should integrate with the European nations as an equal partner," Yanukovych said in today's speech to mark the 22nd anniversary of a referendum that confirmed Ukraine's independence after the Soviet Union collapsed in 1991. "I will not allow any serious economic losses and decline of living of standards."
President Vladimir Putin's government may have offered Ukraine $15 billion in loans, debt restructuring and asset purchases to persuade it not to proceed with the EU deal, the Ukrainian magazine Zerkalo Nedeli said.
'Bidding War'
Speaking in a joint statement, Radek Sikorski and Carl Bildt, the foreign ministers of Poland and Sweden, repeated that the EU remains prepared to sign the accord, urged protesters to remain peaceful and said Ukraine itself must press ahead with transforming its economy to grow closer to the 28-member bloc.
"In the absence of any evidence of economic reform, we will not be drawn into a meaningless bidding war over Ukraine's future," they said in the statement.
Interior Minister Vitaliy Zakharchenko said the police won't allow Ukraine to become another Libya or Tunisia, where uprisings toppled governments in recent years.
"If there is call for public disorder, we will react," the minister said in televised comments today.
Oleksandr Sidorov, 56, an entrepreneur from the eastern Ukrainian city of Zaporizhzhya who's been protesting in Kiev for eight days, said Yanukovych promised to take Ukraine closer to Europe then "outrageously cheated" the nation.
"His place is to be hanged on a Christmas tree," he said.
(Corrects country of foreign ministers in 13th paragraph in story published Dec. 1)
Before it's here, it's on the Bloomberg Terminal.
LEARN MORE