Thai Prime Minister Calls for Talks to End Street Protest
Anuchit Nguyen and Suttinee Yuvejwattana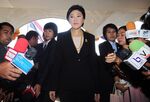 Thai Prime Minister Yingluck Shinawatra called on protesters seeking her ouster to end their occupation of government buildings and come to the negotiating table for the good of the country.
"I want to ask protesters to stop the demonstrations and return the government offices," Yingluck said today in an address on national television, adding that she didn't want to see a violent confrontation. "The government is willing to cooperate with stakeholders and work out a plan to solve the problems in a way that is acceptable to all parties."
Yingluck just hours before survived a censure vote in parliament. The two-day debate in parliament coincided with an escalation of street demonstrations in which multiple government ministries have been seized.
Protest leader Suthep Thaugsuban has repeatedly rejected Yingluck's offers to hold talks, saying the protest won't end until her government is gone and he has dismantled the political machinery of her brother, former premier Thaksin Shinawatra, who was ousted in a 2006 military coup.
"Political reform will be achieved only by the people," said Suthep, who until last month was a member of the opposition Democrat party and is known for overseeing a deadly crackdown on anti-government protesters when he was deputy premier in 2010. "Politicians will have no role in the country's new political reform."
Economic Effect
About 50,000 people joined protests in Bangkok and seven other provinces yesterday, police spokesman Piya Uthayo said. Demonstrators cut the electricity supply to the police headquarters and an adjacent hospital in central Bangkok, the INN news agency reported.
Yingluck said the shuttering of some ministry buildings won't impact the government's ability to operate.
"Even though there are some difficulties in some affected agencies, the government has a back-up plan to ensure efficient services," Yingluck said, though she warned that if the demonstrations continued they could have a negative effect on the economy and investor confidence.
The peaceful protests haven't had an impact on tourism, said William Heinecke, chief executive officer of Minor International Pcl, which owns the Four Seasons, St. Regis, Marriott and Anantara hotel chains in Thailand.
"We so far haven't noticed any drop in bookings," Heinecke said in a Bloomberg Television interview from Bangkok today. "The demonstrations are limited to the government sectors and no tourist or business operations in the city are affected at all by these peaceful demonstrations."
Foreigners pulled a net $1.3 billion from bonds this month through yesterday, according to Thai Bond Market Association data, contributing to the baht's 3.2 percent loss this month. The baht depreciated 0.2 percent to 32.16 per dollar as of 2:53 p.m. in Bangkok and reached 32.228 earlier, the weakest level since Sept. 9, according to data compiled by Bloomberg.
Confidence Vote
Yingluck survived a no-confidence vote in parliament over opposition allegations of economic mismanagement, corruption and attempting to pass amnesty legislation that would exonerate Thaksin of crimes he committed before being ousted in a 2006 coup. Members of the lower house voted 297 to 134 to reject a petition to censure her. Interior Minister Charupong Ruangsuwan also survived a censure motion. Yingluck's ruling coalition controls more than 300 seats in the 500-member lower house.
Rallies that began a month ago against an amnesty for most political offenses stretching back to the coup have morphed into a wider push to end what Suthep calls the "Thaksin system." Parties linked to Thaksin have won the past five elections on support from Thailand's rural north and north-eastern provinces.
Suthep and Abhisit Vejjajiva, the Democrat party leader and former prime minister, are facing murder-related charges for ordering the army to use live ammunition to disperse armed protesters when they were in power in 2010.
The Criminal Court earlier this week issued a warrant for Suthep's arrest for his role in leading the seizure of the finance ministry. Piya, the police spokesman, said Suthep won't be arrested if the move is likely to spark a violent response from demonstrators.
Before it's here, it's on the Bloomberg Terminal.
LEARN MORE